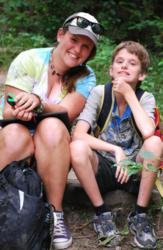 Our integrated program creates an atmosphere where campers learn to empathize with others without feeling sorry for them. Tolerance for differences within individuals is increased, not only for exceptionalities, but for everyone
(PRWEB) April 30, 2012
There are many Ontario summer camps that offer an integrated program for children with exceptionalities like Down syndrome, Asperger's and Autism. The tendency is for people to see this as a service for the families of these campers. It's true that campers with exceptionalities benefit from taking part in camp activities throughout the summer, but no more than any other camper. Peter Truman, the Director of Kettleby Valley Camp near Toronto, believes that it's the camp that benefits most from the integrated program.
"Diversity and inclusion are part of the core values we have at camp. We want our staff and campers to be accepted for who they are." Peter adds, "Our integrated program creates an atmosphere where campers learn to empathize with others without feeling sorry for them. Tolerance for differences within individuals is increased, not only for exceptionalities, but for everyone."
Running an inclusive integrated program at camp has its challenges. For some campers, coping with change can be a problem. For example, when thunder or lightening causes a change in the program at camp, there may be some difficulties with transitioning. To assist with this process, each integrated camper is provided with a one to one staff ratio. If a challenge arises, the counselor can devote their total attention to supporting the camper and give him or her time to adjust while the rest of the group moves on. This minimizes the social damage and humiliation that a behavioral outburst can have on the individual.
For the staff at Kettleby Valley, many see themselves entering the education field in their future. As teachers, modifying their approach is critical to succeeding in a classroom and working with exceptionalities requires adjustments on the fly. The level of gratification gained from making a connection with a child is directly related to the effort put forward. It is therefore no surprise that an integrated program has presented countless rewarding experiences for the counselors.
When you consider all the benefits of to the camp as an organization, it's surprising that every camp doesn't have an integrated program.
Kettleby Valley is an Ontario summer camp and outdoor education centre located north of Toronto. They provide both day camps and residential overnight camps to families all over York Region. Families from Aurora and Newmarket have made Kettleby Valley their choice for years. For more information, please contact the camp at 905-726-4275 or go to their website .