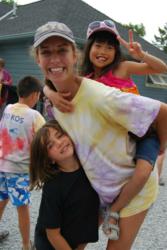 "The goal of our program is to develop skills that the participants can use in any endeavour they take on in future."
(PRWEB) April 15, 2012
Summer Camps in Ontario offer a chance for children to build confidence, increase their independence and develop new skills in an outdoor setting. However, there comes a time when children are too old to be campers, but too young to be a staff member. Many camps offer a Leader-in-Training program to fill in the gap. At Kettleby Valley, the 'LIT' summer camp program for teens is geared toward people who have finished 9th grade.
So what's special about the 'LIT' program at Kettleby Valley? Peter Truman, the Director of the camp explains. "The goal of our program is to develop skills that the participants can use in any endeavour they take on in future."
At Kettleby Valley, each 'LIT' goes through the process of completing an application, much the same as someone would if they were looking for employment. Once the application is received, the individuals are contacted to arrange for an interview. Skills like completing an application, arranging for references and presenting yourself in an interview are applicable to any job.
For some candidates, an interview can be a stressful process. "That's the idea", Peter adds. "Selling yourself is stressful, but they might as well learn the skills in a friendly, positive environment." Many of the participants are past campers who have grown up at Kettleby Valley, and have known Peter for years. They are also provided with a list of potential questions prior to the interview so that they can prepare if they choose.
Once the successful candidates are enrolled, the 'LIT's' take part in a three week program, either in July or August, that combines a summer day camp experience with an overnight summer camp experience. During the program, they learn about working together as a team, developing strategies for leading children, and building skills in teaching and instructing. Throughout the program, each participant is presented with two evaluations to help hone their skills and improve their performance as a leader.
"The LIT program is a great way to develop skills that are helpful in many different settings." Peter concludes, "No matter what they choose to pursue in the future, we believe that the experience they gain will help them excel."
Kettleby Valley is an Ontario summer camp and outdoor education centre located north of Toronto. They provide both day camps and residential overnight camps to families all over York Region. Families from Aurora and Newmarket have made Kettleby Valley their choice for years. For more information, please contact the camp at 905-726-4275 or go to their website .