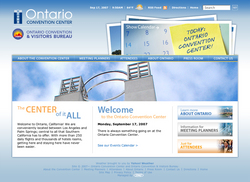 We will be in a testing phase for the next 30 days
Ontario, Calif. (Vocus) September 19, 2007
Today the Ontario Convention Center launches a brand new Web site for both the convention center and Ontario Convention and Visitors Bureau.
Visitors to http://www.ontariocc.com will enjoy the ease with which they can find information about the convention center and bureau amenities. A view of the city's amenities can be found via Google Maps, and people can sign up for the RSS feed to get the latest news on the convention center and visitors bureau activities.
The new site provides an enhanced experience by providing faster access to the site's content. "Our new site is very easy to navigate and will provide our visitors with information about the bureau and everything the building offers," said Bob Brown, general manager and CEO. "We know that meeting planners do much of their research online, and our site offers more information about the convention center to help them do their planning. We geared our content toward what we know is important to them."
The site was built on a LAMP (Linux, Apache, MySQL, PHP) development platform allowing for dynamic ability within the site. Through the dynamic architecture, better utilization of natural search engine optimization (SEO) gives easy access to internet search engines picking up Web site content.
"We will be in a testing phase for the next 30 days," said Theresa Moretti, director of marketing and PR. "We will use the early test phase to fully optimize our content, and then moving forward, we'll apply extensive analytics to continually fine-tune the site."
Centric (http://www.centric.com) in North Hollywood won the bid to work with the Ontario Convention Center and Ontario Convention and Visitors Bureau earlier this year out of a field of four contenders. "What won us over was their vision for where we go and how we could best utilize web technology," said Moretti. "Even though we're not yet ready for some aspects of social media like Second Life, they have definitely paved the path for us for when we are ready to expand our reach in that arena."
To check out the new site for the Ontario Convention Center and Ontario Convention and Visitors Bureau, please visit http://www.ontariocc.com.
About the Ontario Convention Center
The Ontario Convention Center is contemporary in design and equipped with the latest in technology. The Convention Center boasts over 225,000 total square feet of exhibit, meeting and function space. An ideal venue for conventions, tradeshows, exhibits and meetings, the Convention Center provides a full range of technology services, including Wi-Fi, Internet, DS3 and video-conferencing capabilities. For more information about the Ontario Convention Center, go to http://www.ontariocc.com or call (909) 937-3000.
Headquartered in Philadelphia, SMG provides facility services to more than 200 venues in 41 states, Puerto Rico, Mexico, Canada and Europe, controls over 1.5 million entertainment seats worldwide and manages more than ten million feet of exhibition space.
CONTACT: Theresa Moretti
Phone: (909) 937-3005
E-mail: tmoretti(at)ontariocvb.com
###