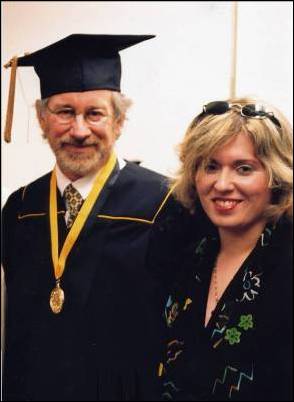 I really think that this group represents some of the best filmmakers in Los Angeles.
Hollywood, CA (PRWEB) March 20, 2007
Thirty-two Los Angeles-area filmmakers -- all official candidates in the Steven Spielberg/Mark Burnett reality show contest, On The Lot -- are meeting at a Burbank restaurant Wednesday evening to network, give feedback on each other's submissions, and to ease the tension in the final two weeks before their hope of getting a callback for an audition is gone forever (or at least until next season.) Lisa Murray, an independent filmmaker living in Studio City, is the organizer behind this week's meeting. "I'm an action-oriented person when it comes to my dream. I am excited to meet the other Los Angeles filmmakers who have entered their films! We all have this amazing contest in common," Murray explains. And she should know about the pursuit of a dream. Murray's submission is a trailer for her documentary, I Have Dreams Dammit! a film about the pursuit of a dream. The filmmakers communicate with each other by posting messages on the On The Lot message boards. Murray continues, "Corrifox, (whose real name is Corri Hunsperger and his eerie drama, The Interview, can be found on the On The Lot site) is the one who came up with this idea to meet and with his blessing I took the reins and helped organize the logistics."
From Mark Burnett, Steven Spielberg and DreamWorks Television, On The Lot affords aspiring filmmakers the opportunity of a lifetime: a $1-million DreamWorks development deal. And, 12,000 people submitted their films for consideration. On The Lot will feature filmmakers who will produce short films in every genre every week and the viewers will vote on who gets eliminated. The show will premiere with a one-hour auditions episode on Tuesday, May 22.
Although there has been no official announcement from Fox of when the audition calls will finalize, there have been reports that 2nd round interviews have taken place in Canada. Speculation on the On The Lot message boards is that they are continuing to make phone calls until the end of this month. In the meantime, hopeful filmmakers continue to promote their submissions on the site and cruise the message boards, desperate for the latest information.
The 32 filmmakers that are gathering on Wednesday all come from as different of backgrounds as their film submissions are from one another.
"To me this (contest) is a historical event... and a great way to meet others just like me... with the same passion," says Andre Nieves, a fillmaker who learned how to make films from his father. Nieves' On The Lot submission is the 4-minute drama, Mustang.
"I am interested in meeting my fellow On The Lot filmmakers because…I fully plan on collaborating on films in the near future with some of these people," says stuntman-turned-filmmaker, Matt Andersen. Andersen has just been cast as one of the leads in Dan Myricks' (creator and director of The Blair Witch Project) upcoming feature "The Objective" in which he will pay a Special Forces soldier in Afghanistan at the beginning of the war. Andersen's On The Lot submission is far from the Moroccan desert he will find himself early April, The Dead Undead, is an action packed adventure with young kids fighting zombies.
Director of the comedy submission, Steve McQueen and Me, Shawn Driscoll simple puts it, "I really think that this group represents some of the best filmmakers in Los Angeles." Only time will tell if Spielberg and Burnett agree. Anticipation is bound to loom in the air as these talented directors meet face-to-face with their rivals (slash) potential crew-mates Wednesday evening.
"It's always great to meet new people, because they open your eyes to things that you might not have thought of before. Plus, on the independent filmmaker side, if folks are doing something in their day job that can help with my film, then it's nice to have the connection," says Carole Holliday. Holliday's reason for entering her short, The Little Boy in the Bedroom, into the contest? "I work for a large animation company and want to move into live action. All of my story ideas seem to skew that way. I thought this would be great opportunity to get a crash course in filmmaking -- the way I saw it, if I made it all the way to the end, even if I didn't win, I would have still done sixteen different genre films -- and who knows where from there? Only up, I would imagine."
If you have ever considered selling your soul to the devil to win the lottery (or winning a spot On The Lot), you may enjoy William C. Hatcher's horror submission, Signed Souled and Delivered. "Networking is very important. Most of the people I currently know related to the business are actors, so I would like to meet other directors," says Hatcher.
And for the self-taught filmmaker, which is becoming increasingly popular nowadays with the advancements in digital filmmaking, this contest is a chance for them to prove themselves as well. "It's an enormous opportunity to show the world what a self-educated filmmaker is capable of. It's a huge challenge, and if you're not into challenges you shouldn't be a making movies," says Angus Lyne. Lynn's 1950's WWII-style propaganda film, Electro-Magnetic Flight and You! has won over the Sci-Fi fans on the contest site for it's true-to-genre style and professional execution.
Another Sci-Fi site favorite is from director, Juan Carlos Vargas. Vargas' On The Lot submission is the first five minutes of his 14-minute sci-fi, animated short, Man vs. Woman. Vargas explains, "The best thing about On The Lot is that it's not only a contest for 16 people who will get to be on television, but because of its online component, it is also a showcase for thousands of filmmakers from all over the world who get to share their movies with fellow filmmakers, film lovers, actors, financiers, industry insiders, and of course, the public in general. This makes On The Lot an incredible resource, one that makes us all 'winners' in a sense."
Filmmaker Azita Zendel adds. "I joined this contest because it will allow me to learn from the best (Steven Spielberg) and be inspired by other talented directors that I would be teaming up with and competing against. I look forward to the opportunity to be the best I can be, direct films in genres I might not otherwise tackle, and display all the skills that I've amassed throughout the years as a filmmaker." Zendel's submission is a powerful Art & Experimental short titled, Ashes, as it deals with sexual harassment and memories of childhood abuse.
Some have more personal reasons for entering. Filmmaker, Farnaz Samiinia, whose submission, Body of Work, is a provocative thriller with a cast of professional actors, explains, "I wanted to prove my parents wrong since they don't really consider filmmaking as a 'real profession.' In their minds, being a doctor or a lawyer are the only real professions. But no matter if I end up on the show or not, I will prove to them that they were wrong."
Perhaps that streak of confident rebelliousness is what these filmmakers have in common. Steven Scott, the filmmaker behind, The Sequence, a feature about a documentary filmmaker who becomes obsessed with the Fibonacci Sequence, confidently states his reason for entering: "I entered because it's the one thing in my life I know, with certainty, that I could win."
So whether Spielberg and Burnett discover these filmmakers this time around or not, one thing is certain, you won't find this group of filmmakers sitting around waiting for the phone to ring. They are already planning their next films. (With their cell phones nearby of course.)
# # #