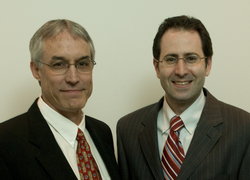 Some women are interested in freezing their eggs before undergoing treatments that may affect their fertility, such as chemotherapy, radiation therapy or ovarian surgery
Gurnee, IL (PRWEB) February 10, 2010
The Advanced Fertility Center of Chicago (AFCC) is one of only a handful of U.S. fertility clinics chosen to participate in a multi-center, national study sponsored by Irvine Scientific on new technology called oocyte vitrification. The vitrification process rapidly freezes a woman's eggs or oocytes (pronounced OH oh sites) to preserve them for future use.
"Some women are interested in freezing their eggs before undergoing treatments that may affect their fertility, such as chemotherapy, radiation therapy or ovarian surgery," explains infertility specialist Todd Deutch, MD.
"In other cases, couples undergoing in vitro fertilization (IVF) have ethical or religious issues with freezing embryos, and are more comfortable freezing the unfertilized eggs instead," says AFCC Program Director Richard Sherbahn, MD. "We have experience with vitrification as this is the technique we have been using for several years to freeze blastocyst-stage embryos."
"Vitrification is a process of using very rapid cooling to convert a material into a glass-like solid free from ice crystals," Dr. Sherbahn explains. "The older method of egg freezing involves slowly lowering the temperature. The 'slow freeze' method seems to increase the chance of ice crystal formation, which damages the egg."
"Egg-freezing is considered experimental," says Dr. Deutch. "At this time, the American Society for Reproductive Medicine is saying it should be done only as part of an institutional review board (IRB) approved research study. AFCC was chosen to participate in an IRB-approved study whose sponsors are looking for FDA approval for their egg-freezing system."
"Many women wish to further their careers or have not yet found a partner with whom they want to have a family. 'Social' egg freezing is a term used for when a woman chooses to freeze eggs to delay childbearing," Dr. Sherbahn explains.
"As egg-freezing technology advances and success rates improve, some women are pursuing social egg freezing at a 'young' age--such as their early 30s--for use later when they are ready to have children. This area of medicine is generating controversy as it expands reproductive options available to women. Dr. Deutch adds.
Read Dr. Sherbahn's blog post on controversies and outcome statistics with egg freezing.
For more information on egg freezing:

The Advanced Fertility Center of Chicago, with offices in Gurnee and Crystal Lake, Ill., offers advanced reproductive technology services such as in vitro fertilization (IVF).
The Center specializes in individualized care, and enjoys IVF success rates consistently higher than the national average. Its highly successful egg donation program has egg donors available immediately, with no third-party egg donor agency needed.
The Center's web site, http://www.advancedfertility.com, offers more than 250 articles on fertility issues and IVF. To schedule an appointment at the Gurnee office, call 847.662.1818. For an appointment at the Crystal Lake office, call 815.356.1818.
###