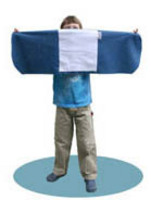 But You Don't Look Sick
Minneapolis, MN (PRWEB) October 14, 2008
oopdoohug.com a Minneapolis based company, is pleased to announce that its (oopdoo)™hug wrap was chosen as a notable new get well gift for children by the popular e-magazine "But You Don't Look Sick". Butyoudontlooksick.com designated September as "Get Better Get Well Gifts" and featured gifting ideas beyond the traditional choices.
The (oopdoo)™hug is an irresistibly soft oversized fleece wrap in the shape of a bandage and includes a pocket that can hold a hot or cold pack. For a child it combines the emotional benefit of an adhesive bandage with the soothing comfort of a security blanket. In her review of the product, site owner Christine Donato said of the (oopdoo)™hug, "This cute gift is perfect for a child who is sick, or under the weather. Since every kid wants a band aid for every boo boo, this is a fleece "bandage" for the boo boos you can't see. This gift is perfect for stomach aches, headaches, or hospital stays."
Christine (Miserandino) Donato started 'But You Don't Look Sick' in 2003 to chronicle her own journey with Lupus but quickly realized that it was a voice and support system for all people battling invisible diseases. It has grown into an e-Magazine with daily articles and a vibrant community. Recent articles include "How to write a better get well note" and "36 easy things you can do to make the life of your chronically ill friend a bit better"
For additional information about the news that is the subject of this release or to purchase products, please visit http://www.oopdoohug.com
About oopdoohug.com and (oopdoo)™. Oopdoohug.com is a Minneapolis based company that incorporates the universally recognized symbol of healing, the adhesive bandage, into its products that carry a healing message between the giver and the recipient. Its signature product, the (oopdoo)™hug, is an oversized soft fleece wrap in the shape of a bandage. It is big enough to cuddle in or wrap around the part that hurts. With a pocket that can hold a hot or cold pack, it is ideal as a get well gift for all ages or to use with children to provide comfort for a number of everyday ailments.
A virtual (oopdoo)™hug is also available to give as a message of healing.
The name (oopdoo)™ visually resembles the shape of a bandage. The logo "Because not all boo-boos bleed" speaks to the emotional healing that children get from an adhesive bandage and a parent's inclination to withhold it due to lack of medical necessity.
###