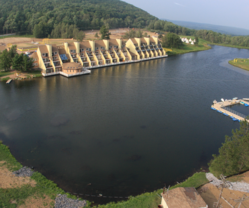 TheZone is designed to forge lasting relationships between campers and counselors, relationships that continue throughout the year, with one on one mentoring being a focal point of everything Oorah does
Lakewood, NJ (PRWEB) July 13, 2012
A group of elected officials, local emergency service representatives, and reporters, gathered at Oorah's TheZone camp to see for themselves the summer camp that has been changing children's lives for years. Oorah started TheZone camp to give children a fun summer in a safe structured environment, but over the years it has blossomed into so much more than that, with incredible on campus activities, beautiful five star accommodations, and, most importantly, year round mentorships.
The visitors were given a tour of the campgrounds, and were impressed with what they saw. Delaware County Emergency Services Director Richard Bell was quoted in a column by Erika Eklund entitled Visiting Oorah's TheZone Camp For Girls as saying; "I have to say I am very impressed with everything I have seen," said Bell "They look very well organized, clean and happy. Everyone looks like they are having a very good time."
The Representatives were from Delaware, Greene, Schoharie and Otsego Counties and some of the activities they toured included the on campus horseback riding, bumper boating, and a camper favorite, the zip line. They were also treated to lunch on the island dock, where they could watch the campers fly right over their heads on the zip line.
Of course, all of the incredible activities and programs offered in TheZone have a purpose, and a very important one at that. TheZone is designed to forge lasting relationships between campers and counselors, relationships that continue throughout the year, with one on one mentoring being a focal point of everything that Oorah does.
In 2006, Oorah purchased and renovated the former Golden Acres resort in Gilboa, NY creating a fully equipped summer camp with top amenities. In 2009, Oorah purchased the nearby Scotch Valley resort and created another state of the art camp facility in the former ski resort. the full history of TheZone and Oorah can be found on Oorah's page.
Of course, TheZone camp is only one of oorah's many innovative programs. From tuition assistance to preschool, from holiday gift packages to singles counseling, Oorah strives to be a one stop full-service organization for Jewish families across the globe.
To learn more about Oorah visit the Oorah website.