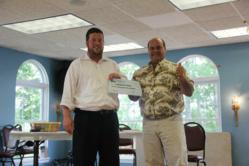 We have our own home away from home at TheZone Girls Division, but we are also part of the town of Gilboa
Gilboa, NY (PRWEB) August 17, 2012
Oorah's TheZone summer camp presented the town of Gilboa with a donation of $7,500 in recognition of the services the town provides the camp. The town was represented by its supervisor, Anthony van Glad, who accepted the donation at a luncheon at TheZone Girls Division campus in Gilboa, New York.
Rabbi Avraham Krawiec, The Zone's camp director, introduced Van Glad to the campers amid enthusiastic cheering. "Today's presentation is about appreciating the big picture," he said. "We have our own home away from home at TheZone Girls Division, but we are also part of the town of Gilboa. We know that we can rely on them for help whenever we need it. With this donation, we are expressing our appreciation to Tony and the entire town for all they do for us."
Oorah, a recognized non-profit charity, started TheZone summer camps in 2006 to provide children with a fun summer in a safe, structured environment. With exciting on-campus activities and beautiful campgrounds and accommodations, TheZone camps are a haven for children of all ages. Campers form close relationships with loving staff members, creating the start of year-round mentorships.
As a tax-exempt entity, Oorah is not required to pay taxes to Gilboa Township, but the organization's officials wanted to do their share in supporting the local economy. This voluntary contribution to Gilboa's public services demonstrates Oorah's wish to be a responsible partner in the local community.
Van Glad gratefully acknowledged the donation and said he was happy to host such a special camp in his town. He assured the campers that the donation would not be used for anything "boring," and alluded to plans to build a new park in the town.
The full story of Oorah's donation was reported in the local paper, the Mountain Eagle.
TheZone summer camp is only one of Oorah's many programs for Jewish youth and families. For more information about Oorah and its programs, visit Oorah's website.