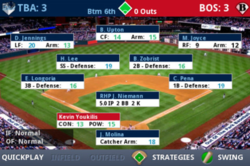 No matter where baseball fans find themselves, they can pull out their iOS device and enjoy a summing session.
(PRWEB) April 06, 2012
Out of the Park Developments is proud to announce the release of iOOTP Baseball 2012, this year's edition of the exciting iOS game for iPhone, iPod touch, and iPad that puts players in control of a major league baseball team. It's driven by OOTP's Out of the Park Baseball engine, which has provided stunningly realistic baseball simulations on PC, Mac, and Linux for over a decade.
"iOOTP Baseball 2012 offers more depth and more fun for baseball fans," said lead developer and lifelong baseball fan Sebastian Palkowski. "No matter where baseball fans find themselves, they can pull out their iOS device and enjoy a summing session."
iOOTP Baseball 2012 is available now at the following link:
http://itunes.apple.com/us/app/iootp-baseball-2012-edition/id507091390?mt=8
On sale at Apple's iOS App Store for just US$4.99, iOOTP Baseball 2012 offers the following improvements from last year's edition:

Complete major league rosters with real players and teams. Will Yu Darvish dominate? When will Bryce Harper debut? Can Texas earn a third straight championship berth and avoid heartbreak this time?
Detailed player histories, along with real schedules in historical seasons. More leader boards are also included.
The option to use pitch-by-pitch mode, rather than at-bat mode, with the ability to switch between the two during a game. Now players can use at-bat mode during the early innings and switch to pitch-by-pitch when the game is on the line and strategic decisions are crucial.
Enhanced AI, along with an improved user interface. Like last year's version, the iPad HD version is included free.
The ability to modify league rules (whether or not to use the DH, the option to disable finances) and edit league, sub-league, and division names.
One new fictional setup, along with the ability to choose any year to start a fictional league, complete with stats and finances from that era.
Easier file transfer via iTunes Share.
iOOTP's core features include:
Three game modes: Major Leagues, which lets players guide their favorite major league team through the 2012 season and beyond; Fictional, which serves up a fresh world full of fictional players, providing a unique challenge each time; and Historical, which offers three exciting past seasons to recreate -- 1924, 1969, and 2004 -- with the ability to buy more through in-app purchases.
Managerial options that enable players to set lineups, pitching rotations, and depth charts before taking the field to make in-game calls, including when to issue hit-and-run and steal signs, how to configure the defense, when to pull pitchers and put in pinch-hitters, and more. Players can also let the computer handle those decisions and set a series of sliders that dictate overall strategies, such as aggressiveness on the base paths, how often to pitch around batters, and more. They can simulate their season a day or a week at a time, jumping back in to manage games whenever they want.
A play-by-play text stream that describes what's happening on the field during the game, making it feel like a radio broadcast.
An in-depth financial system that allows players to unleash their inner GM. Are they "Moneyball" disciples, looking for undervalued players who help the team win while keeping payroll low, or are they free-wheeling spenders seeking high-profile free agents? Players oversee trades, negotiate contract extensions, sign free agents, draft players, cultivate minor league prospects, move players between the active roster, minor league roster and disabled list, and more.
iOOTP Baseball 2012 is available now in Apple's iOS App Store for $4.99. It requires an iPhone 3GS, a third-generation iPod touch, or a first-generation iPad or better. iPhone 3G and second-generation iPod touch, along with previous devices in those product lines, are not supported.
In addition, on April 9 OOTP Developments will ship Out of the Park Baseball 13, which runs on PC, Mac, and Linux. Pricing is $39.99. Further information can be found at http://www.ootpdevelopments.com/ OOTP 13 is also expected to be available at Apple's Mac App Store during the second week of April.
About Out of the Park Developments
Out of the Park Developments is the developer of the award-winning OOTP series of baseball management simulations, Title Bout Championship Boxing, and Inside the Park Baseball, a role-playing game. German-based OOTP Developments was founded by Markus Heinsohn and Andreas Raht in 1999 and employs two people full-time and three part-time. OOTP Developments has consistently produced games that have met with critical acclaim, including winning Metacritic's coveted "Game of the Year" for the 2007 edition of OOTP. Further information on the company and its games is available from the OOTP Developments website, http://www.ootpdevelopments.com