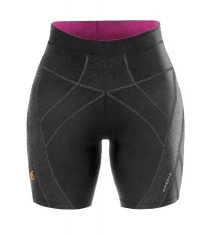 Core stability training is a major component of training programs in sports and rehabilitation for injury prevention, recovery and improved athletic performance. Core stability shorts offer athletes an advantage during this process.
Vail, Colorado (PRWEB) January 08, 2013
Opedix, manufacturers of kinetic health and joint support compression apparel, recently unveiled their latest line of athletic support gear for men and women. The Opedix CORE-Tec shorts for core stability, manufactured in the USA and scientifically designed for athletes and clinical populations, have new technological tensioning systems for a comfortable, form-fitting base layer that enhances kinetic functioning of the body during athletic movement. Tested to improve core stability and dynamic balance, and touted to reduce low back pain and muscle fatigue, the Opedix CORE-Tec shorts are available at select retailers.
Kinetic health continues to be an important focus behind each new product released by Opedix. Kinetic health refers to the harmonious nature in which the body's joints and muscles work together to produce optimal joint motion and efficient muscle function. One of the most significant aspects promoting this equalized movement is the body's core and the stability it offers athletes during training and recovery.
According to Michael Decker, Ph.D., an applied biomechanist, "Core stability is the body's ability to control the trunk in response to inside and outside forces, and provide stability to the lumbar spine, hips and pelvis. Thus, core stability training has become a major component of training programs in sports and rehabilitation for injury prevention, recovery and improved athletic performance."
Weakness or inadequate coordination within the core muscles of the body can lead to compensatory movement patterns that lead to soft-tissue strain, overuse and injury. In particular, dysfunction of the gluteus medius, a muscles on the outer pelvis, is a common cause of insufficient core strength often associated with a significant decrease in dynamic stability and greater risk for knee injury during physical activity. Athletes of all levels are turning to the Opedix line of CORE-Tec shorts to complement core stability training programs in order to promote correct movement patterns and enhance movement quality. Research investigating pain relief for patients with low back pain issues, sacro-iliac (SI) dysfunction and piriformis syndrome is on-going as these patients demonstrate poor core stability and may functionally benefit from wearing these shorts.
"Many musculoskeletal disorders are responding to simple preventative and curative techniques aimed at improving the quality of body movement. The Opedix line of joint support compression garments, such as the CORE-Tec shorts, assists athletes during training by adding a natural filter to help facilitate core stability during movement. Small changes in training patterns can lead to long-term, enhanced results for these athletes," says Dr. Decker.
The CORE-Tec shorts are sold at selected retailers and online at http://www.opedix.com. For more information on kinetic health, visit http://blog.opedix.com.
About Opedix
Opedix designs and produces Kinetic Health Gear™; products to keep active people active and doing what they love to do for longer in life. Opedix manufactures lab-tested products, offering real, non-surgical options for increasing core stability, dynamic balance, muscle efficiency,and strength while decreasing pain and the degenerative effects of poorly aligned body segments. For more information, visit http://www.opedix.com.