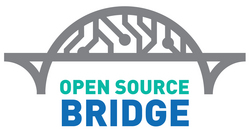 As developers, we find ourselves in a variety of roles: users, creators, and leaders
Portland, OR (PRWEB) March 24, 2009
Open Source Bridge, a new conference designed to increase collaboration in the open source community across a broad range of disciplines, announced today that Ward Cunningham, father of the wiki; Kurt von Finck, Communications Manager for Monty Program AB; and Portland Mayor Sam Adams have been named as initial keynote presenters for the conference to be held June 17-19, 2009, in Portland, Oregon. Nearly 50 presenters have already responded to a call for presentation proposals.
From the thinking behind the conference tracks to the community it tries to attract, the conference is working to bring something new to the open source conference circuit. The language-agnostic conference focuses on the culture and techniques of working within the open source community and the unique challenges that culture presents -- whether that participation occurs as a developer or a user. Speakers can choose from tracks that span from technology-heavy topics like Cooking, Chemistry, and Hacks to more traditional tracks like Business and Culture.
"As developers, we find ourselves in a variety of roles: users, creators, and leaders," said Audrey Eschright, co-founder of the Open Source Bridge Foundation. "That's why we refer to the developers as 'open source citizens,' because they really are immersed in a culture and community. Open Source Bridge is intended as a call to action to become better citizens, by sharing our knowledge with each other."
An important part of that culture is meeting with other developers and hacking on development projects. To facilitate that collaborative atmosphere, Open Source Bridge will feature two dedicated "hacker lounge" spaces for attendees to relax, schedule code sprints, and connect with one another. The main hacker lounge -- which sits atop the Hilton Portland & Executive Tower -- will be open 24-hours a day throughout the conference. The other hacker lounge will be will be at the Oregon Convention Center during show hours.
Participating in the conference
Speakers interested in submitting proposal for Open Source Bridge may do so be visiting http://opensourcebridge.org/events/2009/proposals/. In the spirit of openness, all proposals are available for review by the community, including allowing the community to submit private comments that will assist with speaker selection. The call for proposals will remain open until March 31, 2009.
Attendees may register for the conference by visiting http://opensourcebridge.org/attend/. Until April 1, 2009, attendees may take advantage of the early bird price of $175 for the three-day conference. Student passes are available for $99. Hotel accommodations for the event are provided by the Portland Hilton & Towers starting at $139/night.
Companies interested in sponsoring the event can access more information and a sponsor prospectus at http://opensourcebridge.org/sponsors/. Since the conference is entirely volunteer run, all sponsorship money will go toward the actual expenses of the event, enabling the conference to attract a wide range of participants from across the country and around the world.
About Open Source Bridge
Open Source Bridge is a completely volunteer-run conference for open source citizens held June 17-19 in Portland, Oregon. Focused on developers working with open source technologies, the event features five tracks connecting people across projects, languages, and backgrounds to explore how those developers approach their work, and why they participate in open source. The conference structure is designed to provide developers with an opportunity to interact with open source citizens with whom they might not connect at other events. For more information, follow @osbridge on Twitter or visit http://opensourcebridge.org.
Media Contact:
Rick Turoczy
503 616 3767
###