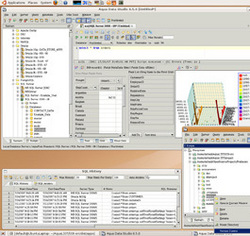 Sunnyvale, CA (PRWEB) September 17, 2007
AquaFold Inc. announced today it is formalizing its licensing program for supporting open source software developers by providing no-cost user licenses for its Aqua Data Studio database integrated development environment. AquaFold's support of the open source community will allow open source project developers use of the most full-featured and complete relational database administration development tool available.
Aqua Data Studio, a database administration program, offers a single integrated development environment for all major relational databases including Oracle, Sybase, DB2, MySQL, PostgreSQL, Microsoft SQL Server and Informix. Combined with its database administration tools are Source Control clients for both CVS and Subversion as well as Compare Tools for file, schema, directory, query results and clipboard. A complete list of its numerous additional features can be found at the Web site.
Aqua Data Studio is available for immediate download by clicking here. Qualifications for an open source software developer license may be reviewed and requested by going here.
About AquaFold, Inc:
AquaFold Inc., creators of the leading database administration development tool, is a provider of database software tools for relational databases. More than 300,000 users, including users from over 90 different countries, use AquaFold's product to design, develop and administer their relational databases. AquaFold is headquartered in Sunnyvale, CA. Visit the Web site for more information on its database administration software.
Contact:
Niels Gron, (408) 627-4017
###