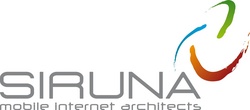 I consider this extra funding to be a vote of confidence in our team and technology. This funding will help us become the leading Open Source platform for mobile website creation
GHENT, Belgium (PRWEB) December 3, 2008
Extra capital for platform development
The capital invested by iVenture will be used to continue the development and enhancement of the Siruna technology platform. This platform enables Web builders to create high quality mobile Web sites and applications, without having to deal with the technical complexity of device diversity. The platform is available both as a fully managed service and as an Open Source technology.
A boost for commercial activities
The new funds will also serve to boost Siruna's commercial activities. Initially, they will be allocated to developing marketing initiatives, producing communication material, and hiring a business developer. Siruna also intends to extend the development of its Open Source community. "I consider this extra funding to be a vote of confidence in our team and technology. This funding will help us become the leading Open Source platform for mobile website creation" says Frank Gielen, Siruna's CEO.
iVenture invests in IBBT spin-offs
The iVenture p re-seed fund is an IBBT investment pool that invests in IBBT spin-offs. It provides the financial instruments necessary for technology start-ups to make the critical transition from product research to market introduction.
About Siruna
Siruna is a Mobile Internet technology provider. The company's technology helps companies bring their online content to any type of mobile device. Siruna has adopted a strategy based on Open Source technology and partnerships with technology partners. The company was originally founded in 2007 as Mobixx, a spin-off of IBBT and the University of Ghent (Belgium). It currently has offices in Ghent and London.