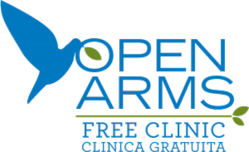 December 3, 2012 Fundraiser
Elkhorn, WI (PRWEB) November 29, 2012
The Open Arms Free Clinic, located in Elkhorn, Wisconsin will be the beneficiary of a fundraising effort at the Pizza Ranch Restaurant (28 West Hidden Trail Elkhorn, WI) on December 3, 2012 from 5 pm - 8 pm.
As noted on the Open Arm's website: "The Open Arms Free Clinic, Inc. strives to better understand and serve the health and wellness needs of the uninsured, low income and under-served residents of Walworth County with compassion and understanding."
The last Open Arms Free Clinic fundraiser, also held at the Pizza Ranch on October 29, met with a good turn-out.
Be sure to visit the Open Arms Free Clinic Website at: openarmsfreeclinic.org
Directions to the Pizza Ranch can be found at this link.