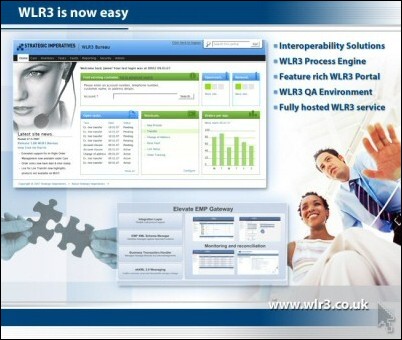 the WLR3 Support Centre will expand on our consultancy services to offer an invaluable platform to Communications Providers looking for in-depth understanding of EMP interoperability, WLR3 business process changes and the EMP product establishment process
Surrey, United Kingdom (PRWEB) January 29, 2007
Strategic Imperatives Limited, the leader in EMP solutions for LLU and WLR Communications Providers, today announced the introduction of its WLR3 Solutions Suite and Support Centre. Leveraging its proven EMP interoperability technology, its position as a 'day one' WLR3 partner and its strong heritage in developing cutting edge solutions for the communications industry, Strategic Imperatives is extending its Elevate EMP gateway to provide a full WLR3 migration platform and creating a dedicated Support Centre for Communications Providers looking for expertise in WLR3 establishment, connectivity and process re-engineering.
This latest move reinforces Strategic Imperatives commitment to providing carrier grade enterprise solutions to Communications Providers who are increasingly faced with the challenges of a more complex technology and product environment alongside a sophisticated and demanding customer base.
The introduction of WLR3 by Openreach will revolutionise the Wholesale Line Rental Market in the United Kingdom as Communications Providers will for the first time be able to compete on equal basis with British Telecom, the incumbent operator. WLR3 will be available on Openreach new strategic Equivalence Management Platform (EMP) and it will require Communications Providers to adopt a new and complex interoperability mechanism as well as introducing significant changes to existing systems and processes.
The WLR3 Solutions Suite is available as a fully managed service, a set of independent components or a fully integrated WLR3 platform. It provides a feature rich, fully supported, cost effective and low risk solution that can support all Communications Providers regardless of size and technology stack. Key components of the WLR3 Solutions Suite include a proven EMP interoperability gateway; a comprehensive process based implementation of WLR3 and a functionally rich portal. The Solution Suite also provides the industry's first offline EMP development environment for WLR and LLU Communications Providers.
"Our unique exposure to EMP and extensive experience with enterprise solutions and tier one providers underpins our WLR3 suite. We know that the right cost base, functionality, reliability and usability are essential to allow our customers to run their business effectively" commented Wail Sabbagh, Managing Director at Strategic Imperatives. "We are delighted to be the EMP solution provider of choice to many of the leading Communications Providers in the UK" he added.
Strategic Imperatives WLR3 Support Centre enables Communications Providers to benefit from the company's significant expertise in this area and address the technical and business challenges of migrating to Openreach's new EMP Platform.
Commenting on the launch of the new WLR3 Support Centre, Jamie McCrindle, Director of EMP solutions at Strategic Imperatives said: "We always work closely with our clients to help them adopt the technology solution that is right for their size and service portfolio". He added that "the WLR3 Support Centre will expand on our consultancy services to offer an invaluable platform to Communications Providers looking for in-depth understanding of EMP interoperability, WLR3 business process changes and the EMP product establishment process".
Notes:
For more information about this press release, please contact:
Sarah Clark
Tel: 01784 497 090
Fax: 01784 497 091
About Strategic Imperatives
Strategic Imperatives provides a range of technology solutions and consulting services to telecommunications service providers, helping them establish, provision and manage their business. Strategic Imperatives enables its clients to gain cost savings, decrease their time to market and quickly respond to new opportunities in today's rapidly changing environment.
Using its enabling Elevate Platform, Strategic Imperatives works with clients to rapidly deliver proven solutions in a variety of domains include carrier grade convergent OSS/BSS solutions, value added services, local loop unbundling, wholesale line rental integration and business process automation.
For more information about Strategic Imperatives, please visit http://www.imperatives.co.uk or our WLR3 Solutions Centre at http://www.wlr3.co.uk
###