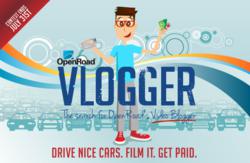 Drive Nice Cars. Film It. Get Paid!
Vancouver, BC (PRWEB) July 17, 2012
The "VLogger Challenge" from OpenRoad Auto Group, launched this summer, is a fun & interactive way to challenge local automotive enthusiasts to truly express themselves via video whilst competing for the job position: "The OpenRoad VLogger". The OpenRoad VLogger position features a base salary & extensive perk package, including an entertainment expense, company vehicles, free gas & complimentary camera equipment.
This Video Blogger competition will be launched exclusively on OpenRoad Auto Group's Facebook page on June 1st, 2012 for exactly 2 months. Using the "VLogger Challenge" tab, entrants may submit their short yet creative video of themselves, stating why they should be chosen as the winner. The video can be filmed with any type of camera, including camera phones. VLogger contestants will be given the opportunity to share their videos with friends and give their network the ability to vote for their favorite videos. In addition, the audience will be able to participate as well by engaging in votes, likes, shares & comments, which will enter them into a contest to win a $500 gift card.
Enter here: OpenRoad Auto Group Facebook
Steps to Enter:
1. Make a video (under 60sec)
2. "Like" OpenRoad Auto Group on Facebook
3. Upload the video to the "VLogger Challenge" Tab
4. Get your friends to vote, like, & comment
*Challenge launch date: June 1st, 2012. Challenge closing date: July 31st , 2012
This fun & exciting position will last a total of 4 months, which will require the winner to compose 32 unique video entries about anything related to the automotive industry & to assist, they will have access to over 180 vehicles carried by OpenRoad.
Perk Package:

$6,400 Contract
Company paid vehicles worth $2,000
$1,000 Leisure & Entertainment Budget
$1,000 in Gas Cards
$1,000 in Camera Equipment
Contact & Inquiries
Joshua Chow
OpenRoad Auto Group Ltd.
Joshua(dot)chow(at)openroadautogroup(dot)com
604 232 5294