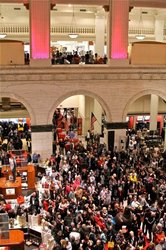 Philadelphia, PA (Vocus) November 5, 2010
On Saturday, October 30, 2010, the Opera Company of Philadelphia kicked off National Opera Week by partnering with Macy's and the John S. and James L. Knight Foundation to produce one of Knight Foundation's "Random Acts of Culture" on a grand scale in Philadelphia.
With the Opera Company of Philadelphia Chorus as a core, over 650 singers from area choirs, accompanied by the famed Wanamaker Organ - the world's largest pipe organ - surprised shoppers at the Center City Philadelphia Macy's with a spontaneous rendition of the Hallelujah chorus from Handel's Messiah.
Click here to view the YouTube video! http://bit.ly/9UV5Pc.
The performance builds on the success of the Opera Company's April 2010 performance of a pop-up Brindisi chorus that featured 35 choristers from La Traviata at the Reading Terminal Market, and which has received nearly 3 million hits worldwide on YouTube since its posting.
The Opera Company is deeply grateful to Knight Foundation for generously funding this Hallelujah performance as one of 1,000 "Random Acts of Culture" that they will make possible over the next three years. The "Random Acts of Culture" program is committed to bringing artists out of the performance halls and into the streets as a reminder of how the classical arts enrich lives.
The Opera Company encourages the personal practice of singing in fun and accessible ways, and is honored to perform with the revered Wanamaker Organ. Macy's is committed to preserving this treasured, historical instrument as one of the many community investments - such as their annual fireworks display, their famed Thanksgiving Day Parade, and the Macy's Christmas Light Show and Dickens Village in Center City Philadelphia - which are made possible by their support.
This "Random Act of Culture" is scheduled to coincide with the launch of National Opera Week, spearheaded by Opera America and the National Endowment for the Arts as a way to celebrate the exciting opera activity in the United States each year by offering accessible, fun, free activities that encourage opera appreciation.
Our most sincere thanks to all of the individuals who joined us in song and in spirit on October 30th!
For more on Random Acts of Culture and to enjoy other examples of these events, please visit http://www.randomactsofculture.org.
To learn more about Opera Company of Philadelphia's 35th Anniversary 2010-2011 Season, visit http://www.operaphila.org.
To support the Wanamaker Organ at Macy's, please visit http://www.wanamakerorgan.com.
For more information about National Opera Week, visit http://www.operaamerica.org/now .
The April 2010 Brindisi performance is on YouTube at OperaPhila:
http://www.youtube.com/user/operaphila#p/u/0/_zmwRitYO3w
For more information, please contact:
Tracy Galligher
Opera Company of Philadelphia Communications
215-893-5903
galligher(at)operaphila(dot)org
###