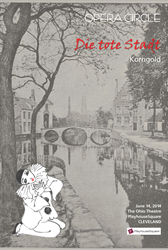 And the city for opera adventure is... CLEVELAND!
Cleveland, Ohio (PRWEB) May 31, 2014
Opera Circle presents "Die tote Stadt" (The Dead City) by Erich Korngold on June 14th, 2014 at 7:30 in the Ohio Theatre in PlayhouseSquare, 1511 Euclid Avenue, Cleveland, OH 44115. This production will be fully staged, with soloists, chorus, orchestra, costumes, staging, sets, and supertitles to translate the text into English. To order tickets, please call 216 241 6000 or visit PlayhouseSquare online. For more information, please call 216 441 2822 or visit the Opera Circle website.
This is our 18th season. Opera Circle produced 42 operas in Cleveland, some of which were give multiple premieres. This June 14th, Opera Circle of Cleveland returns to PlayhouseSquare to present "Die tote Stadt" (The Dead City) by Erich Korngold. Better known for his film music, including two Oscars for The Adventures of Robin Hood and Anthony Adverse, Korngold was an outstanding opera composer.
Korngold's musical language in Die tote Stadt is very much his own, a unique take on a convergence of Imre Kalman and Richard Strauss. Emphasizing the lighter mode, Opera Circle's production will be reminiscent of a Viennese operetta, while wrapped around a serious theme.
In Die tote Stadt, the protagonist Paul struggles with overcoming the loss of his beloved wife and the tenuous boundaries between clinging to the past, sanctifying the departed, and making the decision to move on – a theme of loss that everyone can relate to. The story is set to a breathtaking score consisting of glorious vocal lines and rich orchestration. This fully stage production with a symphony orchestra is made possible with special grants from the National Endowment for the Arts, The George Gund Foundation and many other generous sponsors.
Featuring:
Opera Circle orchestra: Grigor Palikarov, conductor
Opera Circle chorus: Jacek Sobieski, chorus master
Cast:
Nicholas Simpson, tenor, as Paul
Dorota Sobieska, soprano, as Marietta/Marie
William Roberts, baritone, as Frank
Christina Carr, mezzo-soprano, as Brigitta
Allyson Dezii, soprano, as Juliette
Nicole Wong, soprano/mezzo, as Lucienne
Corey Shotwell, tenor, as Gaston
Philip Formes, tenor, as Victorin
James Binion, baritone, as Pierrot
Douglas Olson, tenor, as Graf Albert
Acclaimed music critic Donald Rosenberg will present a number of preview programs prior to the performance. All programs are FREE and start at 7 pm. The dates and locations follow.
Tuesday, June 3: Independence Public Library
6361 Selig Drive • Independence OH 44131
Wednesday, June 4: Brooklyn Public Library
4480 Ridge Road • Brooklyn OH 44144
Thursday, June 5: Parma Heights Public Library
6206 Pearl Road • Parma Heights OH 44130
Monday, June 9: Shaker Heights Public Library
16500 Van Aken Blvd • Shaker Heights OH 44120
Wednesday, June 11: Orange Public Library
31300 Chagrin Boulevard • Pepper Pike OH 44124
Opera Circle events generously sponsored by:
National Endowment for the Arts
Cuyahoga Arts & Culture
Ohio Arts Council
The Cleveland Foundation
The George Gund Foundation
John P. Murphy Foundation
Kulas Foundation
Neighborhood Connections
Northern Ohio Opera League
Polish-American Cultural Center
Cleveland Society of Poles
and many other generous sponsors.