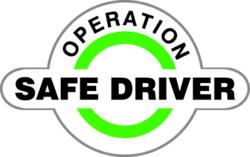 Greenbelt, MD (PRWEB) October 12, 2012
The U.S. Department of Transportation's Federal Motor Carrier Safety Administration (FMCSA), along with the New York State Police, FedEx and the Commercial Vehicle Safety Alliance (CVSA), will hold a media conference on Monday, October 15, in Westchester County, New York, to officially launch the North American-wide Operation Safe Driver Week (October 14-20).
Operation Safe Driver Week will focus on how motorists can drive safely around large trucks and the need for truck and bus operators, as well as passenger vehicle drivers, to follow the rules of the road, avoid aggressive and unsafe driving behaviors without distractions and while buckled up. During this week, jurisdictions across North America will engage in stepped-up traffic safety enforcement aimed at unsafe driving behaviors, particularly distracted driving. This program will also feature PSAs in regions where the most commercial motor vehicle crashes occur.
When:
Monday, October 15, 2012, at 10:00 am
Where:
I-87 Southbound (NYS Thruway) tandem yard just north of Exit 6A, adjacent to Thruway Authority Offices, Yonkers, NY; Directions: from Exit 6A, follow exit road to Corporate Drive. Head west (a left from the south OR a right from the north) onto Corporate Drive. Make the first right onto Sprain Road. Entrance is the right.
Who:
Amanda Kloehr, Truck Crash Survivor and Activist for Distracted Driving Prevention
Bill Bronrott, Deputy Administrator, FMCSA, U.S. DOT
Captain Evelyn Mallard, New York State Police
Mark Savage, President, Commercial Vehicle Safety Alliance
Brian Neal, Operation Safe Driver Program Chair, FedEx Ground
Scott Mugno, Vice President Safety & Maintenance, FedEx Ground
Why:
Nearly 4,000 people are killed and another 100,000 others are injured in truck and bus crashes on the nation's highways each year. Most of these are preventable. In addition, a new CDC survey revealed that 58% of high school seniors and 43% of high school juniors said they had texted or emailed while driving during the previous month.
Features:
Amanda Kloehr, a 24-year-old from Harrisburg, PA, almost died when she slammed her car into the back of a tractor-trailer four years ago. She says her inattention cost her an eye and more than 20 surgeries to rebuild her smashed face. She is lucky to be alive and determined to save lives by sharing her courageous story.
Law enforcement officials will lead a demonstration of a tractor-trailer's "No Zone" to highlight blind spots around a truck where the truck driver cannot see passenger vehicles.
Attendees will sign a "No Texting Promise" poster adjacent to vehicles on display.
Public service spots and the newly released training kit for the "2012 Teens & Trucks," as well as the Curbing Distracted Driving training kit, will be available to members of the working press.
Photo opportunities and individual interviews will be available at the conclusion of the event.