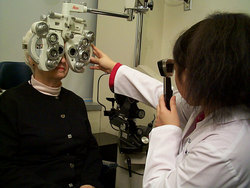 The new classification will identify this profession as a definitive career pathway separate from other health personnel disciplines, and ultimately have a profound impact on the ongoing development of the Ophthalmic Medical Technician profession
St. Paul, MN (Vocus) February 16, 2009
The Joint Commission on Allied Health Personnel in Ophthalmology® (JCAHPO®) http://www.jcahpo.org announces that the ophthalmic allied health profession received official notification of approval for a separate occupational classification, Ophthalmic Medical Technician, from the United States Bureau of Labor's 2010 Standard Occupational Classification (SOC) Committee. JCAHPO calls the new occupational classification a landmark decision.
"This is a historic milestone for the ophthalmic allied health profession," remarks JCAHPO President William F. Astle, MD, FRCS(C), Dipl. ABO. "Ophthalmic Medical Technicians are important in the eye care team as ophthalmology becomes more technologically oriented, and confronts the challenges of an aging patient population. This is a significant measure of how much this profession has evolved into its own, and an empowering validation of this occupation's professional merit," adds Astle.
The 2010 SOC system is used by federal statistical agencies to classify workers into occupational categories for the purpose of collecting, calculating, and disseminating data. For an occupation to be accepted for inclusion in the SOC, it requires a set of uniquely identifiable skills. The first set of skills is related to the complexity and range of tasks and duties, including knowledge and experience. These are defined by preparation levels and credentials, and considered necessary for new entrants to an occupation (skill level). The second set is related to both the type of work performed and the nature of the work activities.
Under the 2000 SOC listing, ophthalmic assisting was classified under Other Healthcare Support Occupations (Medical Assistants). Every ten years, the occupational listings undergo an extensive review. The Ophthalmic Medical Technician is one of many allied health professions impacted by this sweeping reclassification. Ophthalmic Medical Technicians are now classified under the major category of Health Technologists and Technicians, and the sub-group of Health Practitioner Support Technicians and Technologists. The former grouping excluded important tasks and responsibilities of Ophthalmic Medical Technicians that require more advanced, clinical, and overall medically detailed skills and knowledge than those of the general Medical Assistant.
Although the new occupational listing is identified as Ophthalmic Medical Technician, the SOC listing encompasses all three levels of JCAHPO certification, Certified Ophthalmic Assistant (COA®), Certified Ophthalmic Technician (COT®), and Certified Ophthalmic Medical Technologist (COMT®). The term "Ophthalmic Medical Technician" communicates the complexity and range of tasks from "assisting" that differentiates this profession from medical assisting.
JCAHPO leadership notes that the SOC decision will facilitate heightened public awareness and aid in recruiting more people into the profession. "The new classification will identify this profession as a definitive career pathway separate from other health personnel disciplines, and ultimately have a profound impact on the ongoing development of the Ophthalmic Medical Technician profession," says Astle.
For more information on JCAHPO or information on a career as a certified Ophthalmic Medical Technician, visit http://www.jcahpo.org or call (800) 284-3937.
JCAHPO is a non-profit organization that has been providing certification and training for eye care excellence since 1969. More than 17,000 ophthalmic assistants, technicians, and technologists in 22 countries are JCAHPO-certified.
###