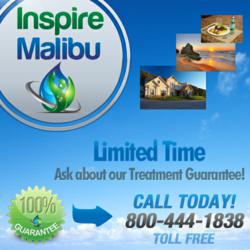 Proper scientific treatment is essential for a complete recovery
Malibu, CA (PRWEB) September 26, 2012
There are close to three million people in the US and Europe who are addicted to some form of opiate, as estimated by the World Health Organization, and despite the evidence of effectiveness, it is estimated that only 8% of injecting drug users globally currently receive opioid substitution therapy. The Time-Tested Care of Dr. Mohammad at Inspire Malibu has lifted the standard of care for Opiate Detox treatment rehab and Inspire Malibu Addiction Treatment Center is revolutionizing successful addiction treatment utilizing town hall meetings among other methods of quality participation.
Dr. Mohammad of Inspire Malibu addiction treatment centers understands addicts who arrive at a place of end with Opiate abuse. He has seen and felt their pain and strong desire for new life and freedom, free from addiction. He also understands their fear of treatment and the withdrawals associated with Opiate Detox. Patients often begin taking the medication to avoid pain. While rehab methods used in different opiate treatment centers differ, the beginnings are common in that most opiate related addiction begins with pain management.
Dr. Mohammad's Opiate Rehab program involves cleansing the brain of all the narcotics that have been deposited on the receptors. Medication is carefully administered to reverse opiate dependency while addressing any symptom that the patient may experience. The patient is then allowed to rehabilitate in the opiate treatment center facility where their needs are met in discovering a life without opiates.
The opiate withdrawal addiction treatment symptoms like strong craving for the drug, nausea, vomiting, anxiety, insomnia and much more can be harsh and are expected to happen. Symptoms usually start within twelve hours of last opiate usage. At Inspire Malibu, Buprenorphine (Suptex) has been shown to work better than other medications for treating withdrawal from opiates, and it shortens the length of detox. Inspire Malibu is the world's leader in the proper usage of Suboxone. Suboxone is used for safe and comfortable detoxification from opiates (prescription pain medications). Subutex and Suboxone treat opiate addiction by preventing symptoms of withdrawal from heroin and other opiates.
Dr. Mohammad and his Inspire Malibu team will add the topic to their popular town hall events, which are designed to inform the community at-large about the options available to them when considering proper and effective opiate treatment.
For more information about Dr. Akikur Mohammad, opiate treatment and Inspire Malibu's next town hall event, visit Inspire Malibu.