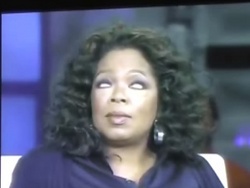 The Church of Oprah Exposed
Seattle, WA (PRWEB) May 30, 2008
The Beatles don't have anything on Oprah. In an interview on July 29, 1966, John Lennon stated that the Beatles were "more popular than Jesus." Robert Fontenot, Jr., an entertainment critic and journalist says in an article on About.com, that "it remains one of the biggest pop music scandals of all time, but even that dubious honor can't really convey the impact the statement had in those bygone days." According to Wikipedia, "The American Bible Belt protested in the South and Midwest, and conservative groups staged public burnings of Beatles' records and memorabilia. Many radio stations banned The Beatles' music, and some concert venues cancelled performances."
Will America have the same reaction when they are aware that Oprah says that "we are God?"
A new DVD by author and producer Carrington Steele, Don't Drink The Kool-Aid: Volume I, has recently been released exposing this statement, as well as many more showing Oprah's intention to spread her own brand of gospel. In a recent online session with Eckhart Tolle, author of A New Earth, Oprah says, "We are the universe, or the source of all life, or the Creator, or God; whichever name you choose to use, expressing itself in our particular form."
Recent news coverage has documented Oprah's apparent slide in popularity and ratings, and has stated that part of the cause is her new agenda, which she calls her "mission" to bring this message to the world.
In an XM Radio broadcast last year, Oprah advised that she had attempted to bring this information to the public in 1992, but faced such an outcry that she backed away and determined to promote when the time was right.
Oprah states repeatedly that her effort is not to form a religion or create new doctrine and beliefs, but her actions show otherwise. She stated on The Oprah Winfrey Show recently that it is time for a "full court press" and in one of her online sessions, Oprah advised us that this is just the beginning. She also stated that the planet must "evolve or die." This doesn't sound like mere suggestion for her faithful audience.
On May 13, 2008 an entire audience was hypnotized on TV by Dr. Brian Weiss, author of Many Lives, Many Masters. The audience stayed in this state of hypnosis for 45 minutes. This show discussed "past life regression" aka REINCARNATION. Oprah advised us that she has had many lives. They even performed the "eye roll" test showcasing Oprah's unusual ability to go deep into a hypnotic state.
Don't Drink The Kool-Aid: Volume I is a 45 minute investigation into the recent news coverage and the unusual phenomenon that propelled the video "The Church of Oprah Exposed" to over 6.5 million views. The DVD also clearly exposes the difference between what Oprah is saying and the underlying agenda. The 10 minute trailer for Don't Drink The Kool-Aid: Volume I can be seen at CSteeleOnline.com
###