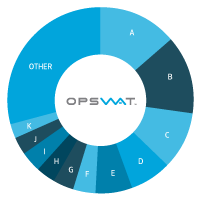 Microsoft Security Essentials. . . jumped more than seven percentage points to reinforce its status as the undisputed leader
San Francisco (PRWEB) September 11, 2012
OPSWAT released their quarterly antivirus market share report today, featuring a new section covering antivirus product usage. The report compares the most popular antivirus vendors and products in North America and worldwide, as well as Windows operating system usage in North America and worldwide. Both of these sections also feature a comparison to the previous six-month period. The usage section of the report shows the percentage, by product, of AV users who have real time protection enabled, as well as average times since the last system scan and definition update.
OPSWAT, the industry leader in software management SDKs, interoperability certification and multiple-engine malware scanning solutions, analyzed more than 140,000 opt-in reports from endpoints worldwide over the past year. The reports, generated by OPSWAT's free AppRemover tool, utilize the detection capabilities of the OESIS Framework to give insights to the applications installed on the endpoint computer.
Among the highlights of this quarter's report is the finding that Microsoft Security Essentials now has more than a 25% share of the North American market for antivirus products. Compared to data from six months ago, the product jumped more than seven percentage points to reinforce its status as the undisputed leader in this regional market. This marks the first report that shows any AV product to have more than a quarter of the market share. Globally, the most widely-used product in this quarter's report was avast! Free Antivirus, which has been the leader in past reports. "As in past reports, free AV products have been leading in the worldwide and North American markets," said Jeff Garon, Director of Marketing at OPSWAT. "Many paid products made the list, but we're seeing more and more users with the free ones installed."
In the worldwide market for AV vendors, Avast maintained its top position, as seen in previous reports, but Microsoft and Avira are gaining ground in the second and third positions. Avira showed the biggest gains for any vendor in the worldwide market, with nearly a 3% increase. In the North American market, Microsoft showed the highest share and largest gain, at more than 26% and 10% respectively, followed by Symantec and Avast.
For the first time, OPSWAT's report also includes data about the usage of antivirus applications, including percentages of applications with real time protection enabled, average time since the last full system scan, and average time since the last definition update. The report found that Microsoft Security Essentials had the highest incidence of real time protection enabled, followed by avast! Free Antivirus and McAfee VirusScan. Security Essentials also showed the highest percentage of users who performed definition updates or full system scans within the last week. Avira Free Antivirus, AVG AntiVirus, and AVG Free Anti-Virus also showed high percentages in these categories. These features could be affected by usability of the products; it is expected that products that highlight or automate these features (real time protection, full system scans, and definition updates) encourage users to take advantage of these options more frequently. Elisse Lockhart, who manages the OPSWAT Certification Program, commented, "We're excited to include this new section with unique statistics about the usage of antivirus products. Knowing how many users have enabled and up-to-date applications provides enhanced insight to the most used antivirus products."
Please contact marketing(at)opswat(dot)com for more information regarding this report. Application vendors interested in adding their applications to the OESIS Framework are invited to partner with OPSWAT through the free OPSWAT Certification Program.
For more information about OPSWAT, the OESIS Framework, and OPSWAT Certification, please visit http://www.opswat.com.
About OPSWAT
Founded in 2002, OPSWAT is the industry leader in software management SDKs, interoperability certification and multiple-engine malware scanning solutions. With both software manageability and multi-scanning products, OPSWAT offers simplified and comprehensive SDKs that reduce time and costs for your engineering and testing teams. OPSWAT delivers: OESIS Framework, an open development framework that enables software engineers to develop products that manage thousands of third-party software applications; Multi-scanning products including Metascan, MetaDefender for Media and MetaDefender for Secure Access, which optimize several anti-malware engines to scan for viruses simultaneously (a free online demo of the Metascan antivirus API is available at http://www.metascan-online.com, a fast file scanning tool using many antivirus engines); Secure Virtual Desktop, a sandboxing solution for secure and private web browsing; AppRemover, a free utility that enables the complete uninstallation of security applications; and GEARS, a white-labeled, cloud-based solution for monitoring and managing computers, servers, and switches.