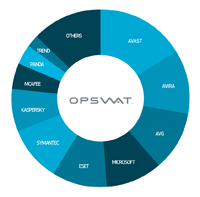 Since our first report in 2010, free AV products have consistently come out on top
San Francisco, CA (PRWEB) March 12, 2012
OPSWAT released their quarterly antivirus market share report today, with an additional section featuring peer-to-peer applications. The report announces the leading antivirus vendors and products in North America and worldwide, as well as Windows operating system usage in North America and worldwide. The peer-to-peer section of the report shows the market share of P2P applications worldwide.
OPSWAT, the industry leader in software management SDKs, interoperability certification and multiple-engine malware scanning solutions, analyzed more than 353,000 opt-in reports from endpoints worldwide. The reports, generated by OPSWAT's free AppRemover tool, utilize the detection capabilities of the OESIS Framework to give insights to the applications installed on the endpoint computer.
Among the highlights of this quarter's report is the announcement that AVAST, Avira and AVG were the top three antivirus vendors detected worldwide. AVAST maintained its top position worldwide from OPSWAT's 2010 data, while Avira moved up to take the second position. In North America, the top three antivirus vendors detected were Symantec, Microsoft, and AVG. Compared to data from a year ago, Microsoft jumped almost five percentage points, rising from fourth to second in the North American market. Worldwide, Microsoft's solutions jumped almost three percentage points, moving from seventh to fourth place.
"Since our first antivirus market share report in 2010, free AV products have consistently come out on top," said Jeff Garon, Director of Marketing at OPSWAT. "More and more users are installing free products in North America and around the world." Globally, the most widely used antivirus product in this quarter's report was avast! Free Antivirus, while Microsoft Security Essentials led the North American market. These findings are consistent with OPSWAT's reports from the past several quarters.
OPSWAT also reported that Windows 7 usage is almost as high as XP in both North America and worldwide, while usage of Windows Vista is far behind, at six percent or less in both markets. Windows 7 is close to overtaking XP, while Vista is expected to drop even further in OPSWAT's future reports.
In the peer-to-peer section of the report, OPSWAT showed the worldwide market share by application. The leader in the market was µTorrent, with over a third of the market, more than twice as much as its nearest competitor, Ares. Elisse Lockhart, who manages the OPSWAT Certification Program, commented, "The top two P2P applications dominate the market, with a combined total of more than 50%. The remainder of the market is highly fragmented, with dozens of other products competing."
Please contact marketing(at)opswat(dot)com for more information regarding this report. Application vendors interested in adding their applications to the OESIS Framework are invited to partner with OPSWAT through the free OPSWAT Certification Program.
For more information about OPSWAT, the OESIS Framework, and OPSWAT Certification, please visit http://www.opswat.com.
About OPSWAT
Founded in 2002, OPSWAT is the industry leader in software management SDKs, interoperability certification and multiple-engine malware scanning solutions. With both software manageability and multi-scanning products, OPSWAT offers simplified and comprehensive SDKs that reduce time and costs for your engineering and testing teams. OPSWAT delivers: OESIS Framework, an open development framework that enables software engineers to develop products that manage thousands of third-party software applications; Multi-scanning products including Metascan, MetaDefender for Media and MetaDefender for Secure Access, which optimize several anti-malware engines to scan for viruses simultaneously (a free online demo of the Metascan antivirus API is available at http://www.metascan-online.com, a fast file scanning tool using many antivirus engines); Secure Virtual Desktop, a sandboxing solution for secure and private web browsing; AppRemover, a free utility that enables the complete uninstallation of security applications; and GEARS, a white-labeled, cloud-based solution for monitoring and managing computers, servers, and switches.