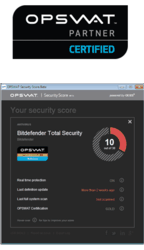 We believe that industry-wide compatibility is a very important feature for any security application.
San Francisco, CA (PRWEB) May 29, 2013
OPSWAT today announced that the company has now partnered with more than 100 security software vendors through the OPSWAT Certification Program to award more than 1000 OPSWAT Certifications.
OPSWAT operates the OPSWAT Certification Program with the goal of promoting and expanding interoperability in the software industry. Over the past four years, OPSWAT has built partnerships with leading security software vendors including Avira, AVG, Bitdefender, Symantec, ESET, McAfee, Sophos and many others. Through partnerships with these software vendors as well as technology solution vendors such as Juniper, Cisco, Citrix, F5 and many others, OPSWAT Certification reduces the hassles encountered by end users due to multiple technologies being unable to communicate.
"Bitdefender is dedicated to working with OPSWAT on Gold Certification," commented Catalina Albisteanu, Product Manager at Bitdefender. "We believe that industry-wide compatibility is a very important feature for any security application."
Software vendors who partner with OPSWAT improve the compatibility of their products for both home and corporate users, as well as for system administrators. When connecting to a school or corporate network, or when working remotely, OPSWAT Certification is important to ensure that access isn't unnecessarily denied. System administrators should choose OPSWAT Certified products when selecting a new product for their organization or when recommending one for guests or employees working from home. Learn more about the benefits of OPSWAT Certification in videos geared towards both home users and software vendors at http://www.opswat.com/certified.
To check the OPSWAT Certification level of any product, OPSWAT offers a free tool called Security Score. Powered by OESIS, OPSWAT's application detection technology, this free downloadable tool also provides a score based on the status of security applications installed on a device. Utilizing anonymous data of the applications detected, OPSWAT also produces quarterly market share reports on antivirus and other application categories.
"We are very glad to have established strong partnerships with so many security software vendors," said Elisse Lockhart, Marketing Manager at OPSWAT. "We continue to see that more vendors are interested in committing to industry-wide compatibility improvements."
Software vendors wishing to join the program should visit http://www.opswat.com/certified/partners. Users and system administrators are encouraged to contact their software vendor to request that they submit their security application for free OPSWAT Certification.
About OPSWAT, Inc.
Founded in 2002, OPSWAT is the leading provider of software management and security technologies. With both software manageability and multi-scanning products, OPSWAT offers simplified and comprehensive SDKs that reduce time and costs for your engineering and testing teams. OPSWAT delivers: OESIS Framework, an open development framework that enables software engineers to develop products that manage thousands of third-party software applications; Multiple antivirus engine scanning products including Metascan (try the demo at http://www.metascan-online.com); AppRemover, a free utility that enables the complete uninstallation of security applications; and GEARS, a white-labeled, cloud-based solution for monitoring and managing computers, servers, and switches.