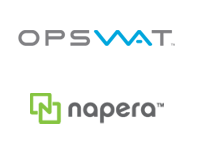 We're very excited to offer cloud-based, white labeled management and monitoring capabilities.
San Francisco, CA (PRWEB) February 23, 2012
OPSWAT, Inc. today announced that it has acquired privately-held Napera Networks, Inc. and has integrated their technology into the newly launched OPSWAT GEARS. Based in Seattle and featured in several NetworkWorld articles, Napera received $6 million in Series A funding and was named one of Lead411's "Hottest Seattle Companies" in 2010 as well as being featured as "Startup of the Week" by InformationWeek. Napera's technology has been incorporated into OPSWAT GEARS, a white-label solution for endpoint management and compliance, to enable cloud-based network monitoring.
"We found Napera's products to be a perfect fit with our roadmap. The acquisition of Napera and their technology helped us enhance OPSWAT GEARS to include a cloud offering and to expedite our time to market," said Benny Czarny, President and CEO of OPSWAT. "We're very excited to offer cloud-based, white labeled management and monitoring capabilities to our existing and new customers."
OPSWAT GEARS can be white-labeled and integrated into network solutions to provide cloud-based monitoring and management of any computer. GEARS quickly exposes unpatched computers that may put the organization at risk by monitoring whether machines have the latest OS security patches and latest antivirus, firewall, and antispyware software updates. White-labeled solutions using GEARS technology have already been implemented by companies such as Adtran and many others. In the coming months, OPSWAT will also be delivering additional OPSWAT technologies through the GEARS platform.
Jonathan Brown, a lead engineer from Napera and now part of the OPSWAT team, commented, "It's a great opportunity to join OPSWAT and to work with their teams to integrate our companies' technologies. The end result is a very powerful solution."
To learn more about OPSWAT and the GEARS platform, please visit http://www.opswat.com. A demo of the technology is available at http://www.opswatgears.com.
About OPSWAT
Founded in 2002, OPSWAT is the industry leader in software management SDKs, interoperability certification and multiple-engine malware scanning solutions. With both software manageability and multi-scanning products, OPSWAT offers simplified and comprehensive SDKs that reduce time and costs for your engineering and testing teams. OPSWAT delivers: OESIS Framework, an open development framework that enables software engineers to develop products that manage thousands of third-party software applications; Multi-scanning products including Metascan antivirus API, MetaDefender for Media (external media security) and MetaDefender for Secure Access (rapid memory scanning), which optimize several anti-malware engines to scan for viruses simultaneously (a free online demo of the Metascan antivirus API is available at http://www.metascan-online.com, a fast file scanning tool using many antivirus engines); Secure Virtual Desktop, a desktop virtualization solution for secure and private web browsing; and AppRemover, a free utility that enables the complete uninstallation of security applications.
###