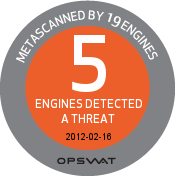 Government, financial, research and IT customers are demanding this level of security.
(PRWEB) February 20, 2012
OPSWAT announced today the first deployment of 30 antivirus engines on one box using Metascan® technology. Delivered recently to a prominent, undisclosed government defense agency, this custom Metascan package enables unprecedented malware scanning capabilities.
OPSWAT, the industry leader in software management SDKs, multiple engine malware scanning solutions and interoperability certification, has delivered Metascan multi-scanning packages to government agencies, public utilities, financial institutions and many others to help combat increasingly complex malware outbreaks and to help prevent data leaks. Now with the ability to integrate 30 antivirus engines at the API level, OPSWAT's multi-scanning solution offers comprehensive file analysis powerful enough for even the most secure organizations.
Alex Sill, Director of Sales at OPSWAT, commented, "We are very excited to offer 30 antivirus engines on one box. In light of the increasing capabilities of cyber-criminals, our government, financial, research and IT customers are demanding this level of security, threat detection and scalability. Our teams put in a tremendous effort to make the 30 engine capability available to our customers."
Metascan is an API driven solution for fast malware scanning, and includes many features for controlling the flow of data in and out of an organization. Features like custom post actions allow customers to decide which actions to take for clean or infected files. Customers can also integrate custom engines, such as those for data loss prevention, to further strengthen and customize their solution.
Multi-scanning is important for organizations with high security needs because no single antivirus engine is perfect 100% of the time. Using multiple engines not only increases the chance of detecting a threat, but also decreases the amount of time needed to detect an outbreak and decreases the chance of complete system downtime.
"This is a great accomplishment, but we're not finished yet," said Tausheet Antani, CTO at OPSWAT. "We'll be continuing to add more engines and increasing the scalability of Metascan technology."
Metascan Online, OPSWAT's free, online virus scanning tool built using Metascan technology, has also been revamped with an updated user interface and significantly faster scanning performance by taking advantage of the recent Metascan enhancements. Visit http://www.metascan-online.com to try it out and see fast multi-scanning technology in action.
To learn more about Metascan (including custom packages with up to 30 engines) and the benefits of multi-scanning technology, please visit http://www.opswat.com/products/metascan. For additional questions, please contact sales(at)opswat(dot)com.
About OPSWAT
Founded in 2002, OPSWAT is the industry leader in software management SDKs, interoperability certification and multiple-engine malware scanning solutions. With both software manageability and multi-scanning products, OPSWAT offers simplified and comprehensive SDKs that reduce time and costs for your engineering and testing teams. OPSWAT delivers: OESIS Framework, an open development framework that enables software engineers to develop products that manage thousands of third-party software applications; Multi-scanning products including Metascan antivirus API, MetaDefender for Media (external media security) and MetaDefender for Secure Access (rapid memory scanning), which optimize several anti-malware engines to scan for viruses simultaneously (a free online demo of the Metascan antivirus API is available at http://www.metascan-online.com, a fast file scanning tool using many antivirus engines); Secure Virtual Desktop, a sandboxing solution for secure and private web browsing; and AppRemover, a free utility that enables the complete uninstallation of security applications.
# # #