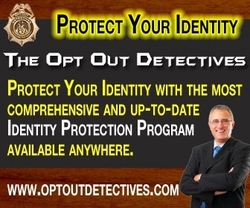 Some of our clients we helped had death threats made against them and their families.
Oxnard, Calif. (PRWEB) April 7, 2009
Identity theft protection experts Opt Out Detectives, Inc. introduced a step by step e-book to help protect the release of personal information to Internet data bases. This easy and innovative set of consumer and business services is designed to help individuals, corporate executives and "public safety officials" eliminate unwanted intrusions -- and even attacks -- on their personal privacy. Used by federal, state and local law enforcement officers for over four years, the proven service is now available to the general public for a one-time fee.
Identity Theft Solutions Designed and Used By Police Officers
Opt Out Detectives.com, led by its founders, police officers in Arizona and California, have introduced an updated identity protection process. The latest process has been used by several State and Federal law enforcement agencies to assist in removing their officer's personal information from the internet. "Some of our clients we helped had death threats made against them and their families."
In the past, Opt Out Detectives.com has assisted many officers who had personal information available on internet websites. "The goal was to remove as much personal information from the internet as possible and redirect any threat attempt to a privately owned mailbox, not my home."
After years of using this process as a backstop for an undercover identity, Mike formed Opt Out Detectives.com. Although marketed as a solution to Identity Theft, the process started as a way for officers to "hide" their home address and reduce any risk to their family from retaliation from subjects they had arrested.
Mike said, "Once an investigation is in the court process, the undercover officer's name is revealed in the report. After using the Opt Out Detectives process, credit card companies I called asked how I removed my information from data bases they use. That's when I knew this was something the public needed."
Detective Mike has been teaching this same process across the country to various Law Enforcement organizations and is now for the general public. When addressing Law Enforcement, Mike is straight to the point and tells his fellow officers, "This instruction isn't just about protecting you from Identity Theft. It's about protecting your family and removing your personal information from internet websites so someone cannot target your home. The benefit is great Identity Theft protection without a monthly fee."
Officer S.D. who used the "Opt Out" process stated, "While conducting home invasion investigations, the department I work for learned I had become a target of a credible death threat. The suspects were watching my wife and children. They were looking for an opportunity to kill me. Overnight, I was forced to move my family and hide my identity. The department's threat assessment team used the Opt Out Detectives.com process to protect my identity and home address."
Opt Out Detectives is motivated by the several personal stories of police officers who have had to uproot their families because of death threats against them. CEO Lance Fininger shares, "We are proactive in protecting police officers, executives, judges and now the process is available for everyone in an easy to use format."
Members of Opt Out Detectives have also been instrumental in introducing bills to make changes to current laws to better protect people's identity.
One-Time Fee:
Opt Out Detectives' services are available for a one-time fee of just $39.95--far less that the cost of other Identity Theft protection services requiring a monthly subscription. Such subscriptions generally amount to many times the price of Opt Out Detectives' affordable and effective solution. Opt Out packages are available to individuals and public safety officials. The process is user implemented which includes the same steps other Identity Theft companies charge monthly fees for, but the other companies do not include online opt-outs, email-opt-outs and over 20 pre-written, personal opt-out letters.
For more, visit the company's web site at http://www.optoutdetectives.com .
About The Opt Out Detectives:
Developed and proven effective by undercover law enforcement agents and police officers. Opt Out Detectives provides proven solutions which greatly reduce data vendors, and even criminals, from buying, selling or using peoples' personal identities without permission. The company's low cost solution reduces the flow of junk mail, takes the person's home address out of the hands of data vendors (Internet), and prevents identity thieves from benefiting from credit card or social security numbers. For more information, log on to http://www.optoutdetectives.com .
Contacts:
Opt Out Detectives PR,
Lance Fininger
602-526-2947
Mike Ood
623-205-7566
FrontDesk (at) OptOutDetectives (dot) com
###