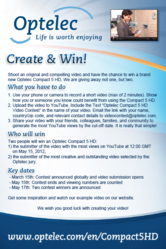 Vista, CA (PRWEB) March 15, 2012
"Submit your creative YouTube video and show how someone could benefit from using an electronic hand-held magnifier." – Optelec announces the invitation for the first global video contest organized in the assistive, low vision industry. Optelec, a world leader in innovative and life-changing assistive technology for the blind and visually impaired, embraces the unique opportunity to unite global channels through the power of the Internet and YouTube and intensify exposure on the benefits of electronic video magnifiers. Contest submissions will be accepted March 15 to May 15, 2012.
Electronic video magnifiers are designed for people who are impacted by vision loss due to retinal eye diseases such as age-related macular degeneration, glaucoma or diabetic retinopathy, and as a result, they have difficulties with seeing and reading. The vision aids optimize the reading experience and help users remain independent for improved quality of life. Although electronic video magnifiers offer more possibilities and expanded functionality than traditional optical magnifiers, many people with low vision are still unaware of the range of options available to them.
Starting March 15, Optelec invites everyone to nominate and share reasons someone could benefit from using the Optelec Compact 5 HD, a new electronic hand-held magnifier. Entries in the form of creative videos have the chance to win a Compact 5 HD for free. Of the submissions from around the world, two winners will be announced based on creativity and the video with the most YouTube views by May 15, 2012. For an extended outline of the Video Contest Rules, please go to: http://www.optelec.com/en/Compact5HD.
The Optelec Compact 5 HD is a portable electronic video magnifier helping people with low vision to read letters, magazines or menus. Combining design with pocket-sized dimensions and a 5-inch widescreen that tilts into the optimal angle, the Compact 5 HD offers increased reading comfort, High Definition image quality, multiple high contrast viewing modes, and a wide, continuous magnification range.
About Optelec
Based in the Netherlands, Belgium, Germany, United Kingdom, Canada and the United States, Optelec is the leading distributor, designer and manufacturer of life-changing assistive technologies for people who are visually impaired and dyslexic. Founded in 1975, Optelec continues to be the global front-runner with a multi-tier distribution in more than 60 counties. For more information, call 800.826.4200 and visit http://www.optelec.com.
Note for editors:
Optelec North America
Courtney Berg, Marketing Communications Manager
+1 800.826.4200 (ext. 227)
cberg(at)optelec(dot)com
Optelec Europe
Daniëlle Nieuwland, Press Officer
+31 (0)88 678 3418
dni(at)optelec(dot)nl