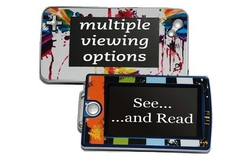 San Diego (PRWEB) December 2, 2009
For the visually impaired, receiving the gift of sight provides no greater sense of joy. This holiday season Optelec US Inc., a world leader in innovative and life-changing assistive technologies for the blind and visually impaired, is offering several "Wish List" optical aids that enable those with low vision to see, read and maintain their independence.
Perfect Stocking Stuffers: Optelec Compact Mini and Optelec Compact+
The pocket-sized Optelec Compact Mini is the smallest, lightest and most cost-effective portable electronic video magnifier available on the market. Priced at only $395, it fits securely in a pocket, purse, or for this holiday season – a stocking! Ideal for spot reading and with multiple viewing options, the Optelec Compact Mini provides low vision users with extensive capability, functionality and convenience.
This is a perfect compliment to the award-winning Optelec Compact+ video magnifier, newly priced at $595 and available in pink, orange, green, black, white and blue. With the Optelec signature one-button simplicity, the Optelec Compact+ is an on-the-go portable video magnifier that enables users to easily read labels, menus, maps, books, directions and more.
New, Trendy and Fashionable Device Skins
Optelec is the first low vision provider to offer users the ability to customize their portable video magnifiers. Optelec and its subsidiary company, ShopLowVision.com, a one-stop-shop site for low vision solutions, have recently partnered with Skinit Inc., the industry leader in on-demand personalization technology, to launch this new initiative. For a limited time only, a variety of 10 different predesigned skins such as leopard, flames, Hawaiian, confetti, paisley and more are available for purchase through ShopLowVision.com or an Optelec dealer. These skins are outfitted for the Optelec FarView, $14.95, and Optelec Compact+, $12.95.
Students and Business Executives On-the-Go: Optelec FarView and Optelec MultiView
In an ultra compact design, the Optelec FarView portable handheld video magnifier combines the benefits of distance and close-up viewing with the ability to access, store, review, and share information. Priced at $1,495, the Optelec FarView's storage capacity allows the user to save up to 100 images. These images can be magnified and scrolled through for detailed viewing on the 4.3" reading screen.
The newly launched Optelec MultiView is the perfect gift for the active visually impaired person who travels frequently, but still wants a desktop magnification system that is easily accessible. The Optelec MultiView is a transportable, multipurpose CCTV ideal for document reading, distance viewing and self viewing. With a versatile 3-in-1 camera and 19" widescreen display the Optelec MultiView has a small footprint, allowing for simple transit and easy storage. It is now available at $2,395.
Avid Readers and Writers: Optelec ClearView+ G2
The Optelec ClearView+ G2 desktop video magnifier allows the low vision user to easily read and write with a 2.7X – 72X magnified and illuminated viewing assistance. Ergonomically designed with an Ultra Flexible Arm TFT Monitor, users can adjust the monitor to their preferred position while enjoying a comfortable distance between their eye level and monitor. The Optelec ClearView+ G2 makes reading more enjoyable and eliminates eye fatigue. Currently the Optelec ClearView ranges from $2,095-$3,065.
Cost-Effective Daily Living Aids Make a Big Impact
Optelec's subsidiary ShopLowVision.com is an e-commerce site with more than 4,000 low vision solutions of daily living products, video magnifiers, optical aids, and professional tools. It offers a range of additional "stocking stuffer" options that can easily integrate and significantly benefit the lives of the visual impaired and blind. Items include a Liquid Level Indicator, $10.95, an Extra Large Universal Remote Control, $26.95, and just recently Jitterbug Cell Phones, $147.00.
Pricing & Availability
All Optelec products and accessories are available through Optelec's dealer and distribution networks. Call +1 (800) 335-7970 or visit http://www.optelec.com and http://www.shoplowvision.com.
Currently there are more than 16 million visually impaired Americans. Optelec is committed to creating and distributing innovative technology that significantly improves the quality of life for these individuals. Optelec solutions range from desktop electronic video magnifiers and USB video magnifiers, to hand-held portable and compact video magnifiers. All of Optelec's products are software-driven and can be updated easily as the technology advances.
About Optelec US Inc.
Optelec US Inc. was founded in 1985 and is recognized as the worldwide market leader in providing innovative solutions for the blind, visually impaired and learning disabled. In January 2007, Tieman U.S., Holding Company to Optelec US Inc., spun off ShopLowVision.com as a subsidiary company to provide a one-stop-shop for optical, non-optical and daily living aids for eye care professionals and consumers. For more information visit http://www.optelec.com and follow on Twitter through @Optelec.
Media Contact
BERKMAN - Courtney Berg, 619.231.9977 (office)
###