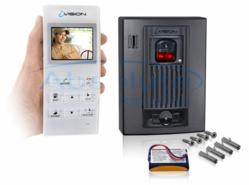 It is terrific we now have them available again in both Canada and the US.
Casco, MI (PRWEB) May 29, 2013
Optex iVision intercoms are once again available from Absolute Automation. Optex experienced a shortage and subsequent back order on the iVision wireless intercom units which led to a shortage in North America.
The Optex iVision intercoms are a wireless video intercom system with a portable indoor receiver. Designed for use as doorbell intercoms the outdoor component is weatherproof and includes a video camera and transmitter which wirelessly transmits the audio and video signal to the indoor receiver for viewing.
The wireless transmitter is strong enough that the indoor monitor with LCD screen can be carried throughout a typical home and reception is not a problem.
Absolute Automation has been an Optex authorized distributor for over 1 decade and has carried the iVision wireless intercom since it was first released. As Amy Campbell a member of the Absolute Automation sales team states, "We've been back ordering customers for this product for a while now so there is quite a pile of back orders and a pent up demand for the units. It is terrific we now have them available again in both Canada and the US."
Absolute Automation is an online distributor of alarm and automation products for residential, commercial and industrial uses. Established in 1995 they have physical warehouses in both the US and Canada with the ability to ship most products the same day out of their warehouses.
Optex is an international manufacturer of security products. Found in 1979 Optex is based out of Otsu, Japan has markets throughout North and South America.