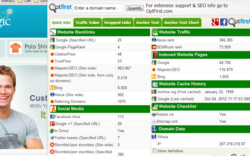 I developed this SEO tool only for my in-house OptFirst Team. I finally decided to release this powerful tool to the public, I hope they find it useful. " Says John Vincent Kriney, President of OptFirst Inc.
Miami, Florida (PRWEB) November 24, 2012
Aside from Google Chrome, Firefox, Opera and Safari are three other top browsers that computer users frequently use nowadays. So with the success of their first ever Chrome SEO Extension Tool, Miami-based online marketing company Optfirst, Inc. will also release the same application this week; this time a Firefox SEO add-on, Safari SEO extension and an Opera SEO extension.
Knowing a website's page rank, back links and traffic value can be found over the internet anytime. However, some of these said applications also require the user to either sign up or purchase before one can utilize the website's full service. Firefox, for example, is one of the most used browsers and it is with the company's delight to present a new SEO Extension tool for Firefox users. Simply install the application and click it upon visiting a website. Just like the Chrome SEO Extension tool, the application will also reveal vital SEO information of a website including its backlinks, Social Media activities, page ranking (Alexa and Semrush), Traffic Value, and other website metrics.
Not only Chrome and Firefox users can enjoy the perks of this new SEO Extension tool by Optfirst, but Mac users as well. This week, Optfirst will release the application for Safari users as well. The new Safari SEO Extension will feature the same features from the Google Chrome Extension. This will be useful for Mac users who are looking for an easy-to-use SEO tool that works with just one click.
Lastly, the company will also come up with an Opera Extension for those who are using the Opera browser. Simply visit the Opera Extension website and search for the Optfirst Opera Extension. Click 'Add to Opera' and it will automatically download and install the button. Just like with Google Chrome, Firefox, and Safari, the Opera SEO Extension app will present the website's SEO, SEM, Social Media and other website metrics.
For webmasters, internet marketing specialists, bloggers or regular users and business owners, knowing their and their competitor's online visibility is very important. But while there may be numerous applications anyone can find over the internet, most of these applications are also time-consuming. However, with the use of the SEO Extension tool by Optfirst, anyone can now get the website's necessary SEO information without costing them anything, and without wasting too much time looking for what they need.
About Optfirst:
Optfirst, Inc. is a Miami internet marketing company that offers ethical and organic SEO services not only for businesses in Miami, but all of North America. By using more than 20 different web marketing strategies clients can be guaranteed that they will get maximum visibility online.