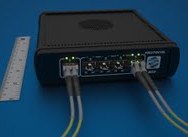 We started the design process with three goals in mind
Montreal, QC (PRWEB) April 27, 2011
Many small-medium companies that require transport testing for R&D, verifications, and sub contraction purposes have found costs of transparency test equipment can be inefficiently high, and procurement inexplicably difficult. One emerging company, Data-Tester, believes it has found the solution through an innovative new product: the ProtocolBox™.
"We started the design process with three goals in mind," says Jean-Lou Dupont, Founder and President of Data-Tester. "Dramatically lower the cost of testing equipment, simplify the operating procedure, and ensure quick and direct purchasing processes. The ProtocolBox™ accomplishes all three. It has the ability to completely revolutionize the transport testing industry."
The ProtocolBox™ is a ground-breaking optical transparency test equipment solution that enables users to dynamically load different types of transport testing such as BER, PRBS and SONET / SDH testing.The ProtocolBox™ addresses the majority of the needs of small-medium businesses, expediting a lengthy and complex procurement process for a fraction of the price.
"Our goal is to provide an affordable and user-friendly alternative to expensive, full-featured test equipment," says Dupont. "Most users only use a small subset – about 20% of the features for generating and monitoring traffic integrity. The ProtocolBox™ targets these users."
The product is flexibly designed and supports many protocols up to 11.3 GB/s, including SONET / SDH, OTN, Ethernet and Fiber-Channel. It is enclosed in a small, five-inch square box and includes five optical ports for traffic generation and monitoring including Web based browser management. The ProtocolBox™ is the first of a family of optical test equipment designed not to replace, but to serve as a new alternative for traditional transparency test equipment such as Agilent/HP OmniBER and Digital Lightwave NIC NXG test equipment. Data-Tester expects to introduce additional products toward the end of the year.
The ProtocolBox™ is scheduled for availability by mid-May, but interested parties may be able to secure a pre-release by contacting Data-Tester directly. For more information on the ProtocolBox™ and other transparency test equipment, visit the Data-Tester website.
About Data-Tester
Data-Tester has over 50 years of accumulated experience in the telecommunications and optical transparency testing industries, developing easy-to-use, easy-to-procure, quality and economical optical transparency test equipment for the telecommunications market. Data-Tester delivers efficient solutions for optical transparency test equipment, including transport testing, BER testing, SONET / SDH testing, and PRBS testing.
###