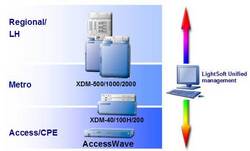 We are very pleased with the growing worldwide footprint of our XDM platform in metro WDM/ROADM networks
Petah Tikva, Israel (PRWEB) September 17, 2007
ECI Telecom Ltd. (NASDAQ: ECIL), a global provider of access and transport networking infrastructure equipment, introduced today the AccessWave, a compact, optical networking platform targeting access and edge C/DWDM (Coarse/Dense Wavelength Division Multiplexing) applications. The AccessWave, part of the BroadGate family, is the newest addition to ECI's optical access solutions portfolio, and enjoys all the advantages of these products: high capacity, multiple service support, cost effectiveness, and ease of operation in a small footprint - as small as a one rack unit.
ECI's XDM® and BroadGate family of products, now spanning a complete line of products from access to long-haul solutions for service providers, are all managed under a unified network management system - ECI's leading LightSoft® network manager. LightSoft's unique approach provides simplified management of the optical layer, enabling end-to-end, access to long-haul provisioning with one system. With its unified graphical user interface, LightSoft improves efficiency by providing users with a clear picture of the optical channels and resources still available. Its multi-layer approach allows carriers to manage all technologies and network segments using a unified and centralized system, resulting in both capex and opex savings.
The AccessWave supports all commonly required data, storage and circuit services, with capacity ranging from less than 2.5Gb/s up to multiple 10Gb/s. It offers unique aggregation and protection features that both reduce costs and enhance quality of service (QoS). The platform's versatility and compact size make it an ideal choice for applications such as triple-play delivery, business data continuity and storage extension. Furthermore, being environmentally hardened, the AccessWave is suitable for outside plant installations, in copper, fiber or cable access optical networks.
"We are very pleased with the growing worldwide footprint of our XDM platform in metro WDM/ROADM networks," said Eyal Shaked Executive Vice President and General Manager of ECI Telecom's Transport Networking Division (TND). "The introduction of the BroadGate AccessWave expands our offering to the first and second miles of optical metro networks, confirming that ECI offers one of the most comprehensive and innovative optical portfolios, from access to long-haul."
The AccessWave is commercially available, and first customer orders are already in place. For more information, please visit: BroadGate®-AccessWave Product Page
About ECI Telecom:
ECI Telecom delivers innovative communications platforms to carriers and service providers worldwide. ECI provides efficient platforms and solutions that enable customers to rapidly deploy cost-effective, revenue-generating services. Founded in 1961, Israel-based ECI has consistently delivered customer-focused networking solutions to the world's largest carriers. The Company is also a market leader in many emerging markets. ECI provides scalable broadband access, transport and data networking infrastructure that provides the foundation for the communications of tomorrow, including next-generation voice, IPTV, mobility and other business solutions. For more information, please visit http://www.ecitele.com.
Certain statements contained in this release may contain forward-looking information with respect to plans, projections or future performance of the Company. By their nature, forward-looking statements involve certain risks and uncertainties including, but not limited to, product and market acceptance risks, the impact of competitive pricing, product development, commercialization and technological difficulties and other risks detailed in the Company's filings with the Securities and Exchange Commission.
Contact:
Investor Relations:
Elana Holzman, VP Investor Relations, ECI Telecom, Tel: International access code +972-3-926-6255
Media Relations:
Sandra Welfeld, Corporate Communications, ECI Telecom, Tel: International access code +972-3-928-7283
Fran Bosecker, PR@vantage, Tel: 1-845-536-1416
###