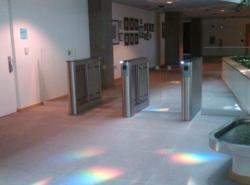 "Fastlane has been reliable since we installed the first lanes for this customer...we also like their turnstiles for the strength of the anti-tailgating technology,"
Austin, TX (PRWEB) July 12, 2011
Smarter Security Systems, provider of premium, innovative entrance control and outdoor security solutions, today announced that a leading biotechnology company recently upgraded its Fastlane Plus optical turnstiles in its East Coast headquarters to Fastlane GlassGate 250. Additional lanes have also recently been installed at various research labs and production facilities as the biotech company moves to further standardize its security practices at its many facilities in North America.
Fastlane Plus turnstiles were installed to help secure the lobby when the headquarters building opened many years ago. When this biotech company moved to update its aesthetics by replacing the two lanes in its lobby, it returned to Smarter Security due to the superior performance and support it received from the company over the years. The customer chose Fastlane GlassGate 250 because they felt that shorter glass offered a nice balance between security and aesthetics. The small footprint also fits cleanly where the old turnstiles had been.
The customer also installed GlassGate 250 at two research labs. Further, Fastlane GlassWing was the preferred model at a production plant where security was recently enhanced. The biotech company is installing turnstiles in new locations to help stop tailgating and to improve its access control. The company uses card in/card out at every installation for safety and more accountability so it knows who is in the building at all times.
Team AVS is the security integrator which installed and commissioned the Fastlane turnstiles and helps the biotech leader with its security efforts across the United States. "Fastlane has been reliable since we installed the first lanes for this customer in 2003, and we also like their turnstiles for the strength of the anti-tailgating technology," said Tom Leonard, President of Team AVS.
"It is terrific to have this end user and Team AVS as repeat customers for so many years. They have placed their faith in our Fastlane solutions, and they continue to replicate that success in many other facilities. We are happy and honored to support them in their current security expansion," said Jeff Brown, President of Smarter Security Systems. "In the biotech industry where security is so important, this customer does a great job of blending it with aesthetics. The good news with Fastlane is you can have both – premium security with elegance in design."
GlassGate 250 is a new speedgate introduced by Smarter Security Systems in 2010. With dual swinging glass barriers in each lane, it is the fastest in the GlassGate line. The pedestals are streamlined and the glass elegantly opens in either direction to be flush with the sides of the pedestal. The shorter-than-pedestal-height barriers have brakes which resist efforts to push through them. This adds to the security provided by the two-stage alarm and advanced Fastlane optical technology.
About Smarter Security Systems, Ltd.
Smarter Security Systems provides premium and innovative entrance control and outdoor security solutions to help organizations protect their people and assets in a world of increasing threats. Since 1992, Smarter Security has offered Fastlane turnstiles, the most elegant and intelligent optical turnstiles available, which protect thousands of commercial and governmental lobbies on 6 continents. Smarter Security also offers perimeter intrusion detection systems, including SmarterFence, a fiber optic fence-mounted sensor. For more information, please visit http://www.smartersecurity.com.
# # #