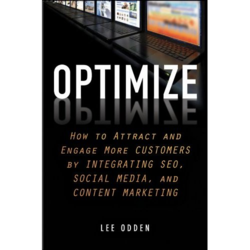 Minneapolis, MN (PRWEB) April 17, 2012
Consumers use a variety of ways to find the information that informs them to make a purchasing decision online. Often times the way that information is discovered can be accomplished in a variety of ways, and the device used to find this information can vary from person to person.
The fast growing community of savvy online shoppers behind the $160 billion in e-commerce sales in 2011, typically come to this conclusion to purchase through a combination of sources including: search engines, email, and social media. Companies large and small, B2B and B2C, are wrestling with how to incorporate the best of these important customer communication channels to inspire sales and keep customers coming back.
Lee Odden's new book "Optimize" offers insight into creating an approach to online marketing that gives companies a customer-centric view of designing an optimized and socialized content marketing strategy. In a recent video interview with WebProNews included in this press release, Odden shared some key insights into "Optimize" as well as the importance of taking a holistic approach to Internet marketing.
Optimize: How to Attract and Engage More Customers by Integrating SEO, Social Media, and Content Marketing (Wiley; Hardcover and ebook; April 2012; $24.95; 978-1-1181-6777-9) is a book written for marketers and communications professionals by one of the industry's leading thought leaders on search, social media, and content marketing.
On why he wrote "Optimize", Odden shared, "I wanted to change the conversation about what optimization means and help companies realize that a customer-centric approach to content that attracts, engages and inspires action is far more profitable that obsessing solely over keywords and links. This book focuses on optimizing for better customer experiences and business outcomes."
The online marketing industry is evolving at a very rapid pace. Changing your approach to content creation is essential because 82% of B2B marketers are already using content marketing as part of their marketing strategy (entrepreneur.com). Over the next 1-2 years over 37% of companies are planning to increase their use of social media monitoring (eMarketer.com), leaving the competition scratching their heads on how to quantify results.
"Optimize" has already received significant praise from many influential search, social media, and content marketing experts including:
Joe Pulizzi - Founder, Content Marketing Institute:
"Lee Odden is one of the true thought leaders in an industry where you are not always sure who to trust. Well, you can trust this book to help take your online and content marketing to the next level. Lee details both the strategy and the tactics to position your company as the true industry expert online. Everyone has content, but not everyone knows how to optimize that content for success. Lee shows you how in a way that makes sense for large or small brands alike."
Chris Brogan, President, Human Business Works, and New York Times bestselling co-author of Trust Agents
"Blending the gears and guts of search with the passion and artistry of content is a brilliant move. If I were lazy, I could cheat and use Lee Odden's book as my roadmap for this coming year's business."
Mel Carson, Digital Marketing Evangelist, Microsoft Advertising
"Lee's no fly-by-night SEO and social media "guru", he's the real deal. He's always sought effective results and ROI for his clients, and always communicated his advice excellently through his blog and at conferences around the world. With Optimize you hold that wisdom in your hands. Cherish it, adhere to it, and have fun implementing it!"
5 Reasons to Purchase Optimize:
1. Understand how to develop a more customer centric online marketing plan for B2B, B2C, Small Companies and Fortune 500 companies
2. Develop audits to assess SEO, Social Media and Content Marketing performance
3. Turn what your customers care about into Content Marketing assets that inspire sales
4. Implement key measurement tactics for integrated Content Marketing efforts
5. Scale an integrated SEO, Social Media and Content Marketing effort in your organization
For additional information on "Optimize", please visit Optimize and follow Lee on Twitter at @LeeOdden.
About the Author
Lee Odden is a recognized authority on search, social media, and content marketing. For over 14 years, he has consulted with companies ranging from start-ups to Fortune 500 companies on how to attract and engage customers with a holistic approach to marketing online. He writes for ClickZ and is editor of TopRankBlog.com, recognized as a leading marketing blog by Advertising Age, Junta42, and Social Media Examiner. Lee has been cited for his expertise by The Economist, Fortune magazine, and Forrester Research. He speaks on integrated SEO, social media, and content marketing topics at conferences around the world including SES, PRSA, BlogWorld, Online Marketing Summit, and Content Marketing World.
Book: http://optimizebook.com
Company: http://www.toprankmarketing.com
Blog: http://www.toprankblog.com