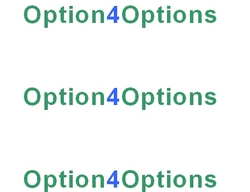 Smart Self-Directed Investors use Options trading for their Online Investing.
Mobile, AL (PRWEB) June 9, 2010
Investors who are long only in this stock market environment may feel completely stupid at times. Options Services at Option4Options] open a new world to an investors online trading. Option4Options.com develops, operates and manages services directed to online investing ideas, information and education related to options trading for the Self-Directed Investor.
Many investors feel that buy and hold is dead. Options not only give investors an online investing edge but should complement a stock investing portfolio. Options can increase your chances for good returns in both bull market and bear market options trading.
Option4Options Mission Statement
"Help Self-Directed Investors Accelerate and Protect their Investments Trading Options the right way."
Whether you are an experienced stock options trader or you are completely new to options investing, it really doesn't matter. Option4Options, LLC highly recommends that all investors use a free virtual stock trading platform to practice trading options and various options trading strategies.
Investors who practice their online investing are more likely to improve their returns and can greatly enhance their results in a positive direction. Virtual stock trading is a great way to learn options without the risk of today's stock market investing volatility. With the right trading platform you can trade stocks and options to learn the best option trading practices without risking any capital at all.
A good virtual stock trading platform provides a self-directed investor with all the tools necessary to test their stock and options trading knowledge. Self-directed investors who are new to options can try out all types of online investing with options. An experienced trader can practice the more complex orders and options strategies before risking their capital funds. Integrated trade screens allow each investor to get research data and virtually trade stocks, ETF's, and options such as calls, covered calls, puts, spreads, and other complex options strategies.
Whether an investor has $5,000.00 or $500,000.00 to trade with, they can first practice online trading with virtual stock trading. Even though they have the ability to make all types of trades, they can also analyze their virtual performance. This platform is great for helping self-directed investors gain all the experience they need without any of the risk. When they make big mistakes and lose virtual money, there is no need to panic because they can reset their account and start fresh at any time.
Option4Options.com has distinguished themselves from other web sites by providing simple information, education and ideas for multiple option strategies covering financial markets, economic and industry trends, and online investing. The expertise and passion of the company's editorial staff is evident in its free newsletter and proprietary services for the public.
Option4Options, LLC offers 3 proprietary subscription services for its customers across the USA and those services are listed below. Each customer is provided a 14 day Free Trial of the subscribed service before being charged any money. Additionally, Option4Options provides a free weekly newsletter to the public covering news, education, ideas, and more concerning options.
Option 4 Covered Call Options
http://www.option4options.com/coveredcalloptions
This online investing service covers investing in stocks and covered call stock options strategies.
Option 4 Calls and Puts
http://www.option4options.com/callsandputs
This online investing service covers put and call option strategies for stock options and investing in stocks.
Option 4 All Options
http://www.option4options.com/alloptions
This online investing service covers advanced stock investing using most all stock options strategies.
About Option4Options.com
Option4Options.com is a publisher of news, perspective, and market intelligence to the public on options. Founded in 2009 and based in Mobile, AL., near the Gulf of Mexico in the Deep South, Option4Options.com delivers an online suite of information, educational resources, and free content to newsletter subscribers. Leadership sources feature highly experienced professionals in the fields of Real Estate, Construction, Mortgage Financing, Health Care and other sectors. Option trading experience at Option4Options.com comes from over 12 years of actual online option trading.
###