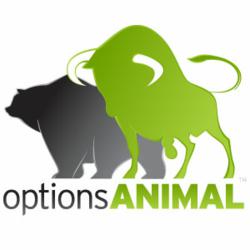 Lehi, UT (Vocus/PRWEB) February 25, 2011
OptionsANIMAL brings its stock market trading series, "Stock & Options LIVE," to investors in Orange County. This workshop teaches investors a more safe approach to stock market investing. Attendees will leave armed with investment ideas and trading strategies to minimize risk and maximize profit in any market condition.
Jon "DRJ" Najarian, contributor to CNBC's "Fast Money" and former CBOE market maker, will be the keynote speaker. In his message, Najarian will share opportunities to make money immediately in today's stock market.
OptionsANIMAL founder, Greg Jensen, will teach investors the proper techniques of portfolio management. Additionally, Jensen will cover technical analysis and which steps he subsequently uses to pick the right stocks for his own portfolio..
Jeff McAllister, director of education for OptionsANIMAL, will focus his training on trade adjustments and how investors can utilize his methods immediately to hedge the risk of their current or future stock investments. McAllister will also teach the Versatile Collar Trade.
These stock market veterans have over 65 years of combined experience. The live interaction with these trading veterans allows new as well as seasoned traders the opportunity to hone their trading skills. Any investor in the Orange County area will find it well worth their time to come learn from three of the most exciting and innovative personalities in the financial industry.
Event Details:
When: Saturday, February 26, 2011
Time: 9:00 a.m. to 5:00 p.m.
Where: Hyatt Regency Orange County
Address: 11999 Harbor Blvd, Garden Grove, CA 92840
To register for this exciting event, please visit: http://conference.optionsanimal.com/conference/register/160/prwebOC
If you are not in the Orange County area, visit http://www.optionsanimal.com to see when a Stock & Options LIVE event will be in your area.
About the Speakers:
Greg Jensen is the founder and chief trainer at OptionsANIMAL, as well as an options investor, speaker, and author. His book, "Spread Trading - An Introduction to Trading Options in Nine Simple Steps," focuses on giving investors the tools and knowledge to put the odds of success in their favor. Jensen has trained thousands of people from all corners of the world to be successful in any market condition with his innovative and cutting edge education. He's a registered investment advisor and actively manages private investment accounts. Jensen earned his degree in business management, with an emphasis in finance, from Utah State University. He's written for a long list of investment publications, including: Forbes Inc., tradeMONSTER®, optionMONSTER®, OptionsXpress, Active Trader Magazine, Reuters, Wiley Trading, and other like publications.
Jon "DRJ" Najarian is a professional investor, noted media analyst, speaker, and co-founder of optionMONSTER® and tradeMONSTER®. Following a brief stint as a Chicago Bears linebacker, "DRJ" launched his financial career at the Chicago Board Options Exchange (CBOE) in 1981, trading in the pits for 22 years. In 1989, he founded Mercury Trading and ran the company for 15 years until he sold his floor-trading operations to Citadel in 2004. "DRJ", as he is often known from his CBOE floor call letters, recently developed and patented trading applications used to identify unusual activity in stock, option, and futures markets. Most notable among "DRJ"'s applications is the Heat Seeker® program, which uncovers extraordinary buying patterns from among the 800,000 quotes per second that stream from America's stock, options, and futures exchanges. In addition to optionMONSTER.com, "DRJ"s research and analysis is widely cited by leading financial media including: The Wall Street Journal, Barron's, Reuters, Bloomberg, Dow Jones, FOX News Channel, CBS Radio, and CNBC. "DRJ" is a CNBC contributor, hosts a daily radio show, and webcasts twice daily on CBOE-TV.
Jeff McAllister is the director of education at OptionsANIMAL. Jeff was first introduced to the stock market while flying for the US Air Force. Following his tour in the Air Force, Jeff was hired as a pilot with American Airlines. Jeff first became interested in options in 2004 when fellow pilots shared their experiences with options. Jeff has since mastered the material, traded successfully, and now has educated thousands and helped them achieve their own financial goals.
Company info:
OptionsANIMAL was founded with the simple goal of creating the most extensive options and spread trading education in a convenient, online format. The vision of OptionsANIMAL is to improve individual investor's quality of life by teaching them the proper skills needed to protect their money, well-being, and retirement. OptionsANIMAL currently offers 45 online classes on topics ranging from stock market basics to double diagonals and trade adjustments. With OptionsANIMAL, investors get a complete education. They're taught proven strategies designed to help them become a successful trader in any market condition. In fact, OptionsANIMAL guarantees it. Perhaps the most vibrant part about OptionsANIMAL is the trading community comprised of thousands of students from all over the world built around the education. The unique thing about OptionsANIMAL instructors is every one of them actively and successfully trades in the stock market and have all graduated with OptionsANIMAL.
# # #