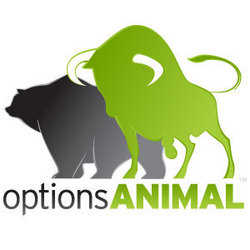 guarantees this investing workshop will change lives.
Lehi, UT (Vocus) November 10, 2010
OptionsANIMAL, the leading provider of options and stock trading education, has teamed up with Jon 'DRJ' Najarian, owner of optionMONSTER.com and contributor on CNBC, to educate investors on how to minimize the risks of investing in today's market by using options to hedge risk. Mr. Najarian believes that this one day options trading course will give all investors the understanding of how to make their money work for them. He also said that he "guarantees this investing workshop will change lives."
There are risks to all investments, but by using different combinations of bullish and bearish options trading strategies this risk can be managed. In this one day event you will learn steps to securing your investments. All OptionsANIMAL workshops are provided free of charge nationwide. The next event is scheduled for November 13, 2010 in San Jose, CA. To register for this event visit http://conference.optionsanimal.com
When: November 13, 2010 9:00-5:00
Where: San Jose Marriott
301 S Market Street, San Jose, CA, 95113
About the Speakers
Greg Jensen is Founder and Chief Trainer of OptionsANIMAL, is an options investor, speaker, and author. His book, "Spread Trading - An Introduction to Trading Options in Nine Simple Steps," like his cutting edge and innovative education, focuses on giving investors the tools and knowledge to put the odds of success in their favor. Greg has trained thousands of people from all corners of the world to be successful in any market condition.He is a Registered Investment Advisor and is actively managing private investment accounts, and earned his degree in Business Management, with emphasis in Finance, from Utah State University. He has written for a long list of investment publications, Forbes Inc, tradeMONSTER, optionMONSTER OptionsXpress Active Trader Magazine, Reuters, Wiley Trading, and other like publications and similar companies.
Jon 'DRJ' Najarian is a professional investor, noted media analyst and speaker, and cofounder of optionMONSTER® and tradeMONSTER®. Following a brief stint as a Chicago Bears linebacker, Jon launched his financial career at the Chicago Board Options Exchange (CBOE) in 1981, trading in the pits for 22 of the past 29 years. In 1989 he founded Mercury Trading, running the company for 15 years until 2004, when he sold his floor-trading operations to Citadel, one of the world's largest hedge funds. More recently, Jon - often known after his CBOE floor call letters 'DRJ' - has developed and patented trading applications used to identify unusual activity in stock, option, and futures markets, notably the Heat Seeker® program, which uncovers extraordinary buying patterns from among the 800,000 quotes per second that stream from America's stock, options, and futures exchanges. In addition to optionMONSTER.com, Jon's research and analysis is widely cited by leading financial media including the Wall Street Journal, Barron's, Reuters, Bloomberg, Dow Jones, FOX News Channel, CBS Radio, and CNBC. Jon is a CNBC contributor, hosts a daily radio show, and webcasts twice daily on CBOE-TV.
company info:
When OptionsANIMAL was created, the goal was simple, they hoped to create the most extensive and complete options and spread trading education anywhere. They are able to deliver the education in a convenient, online format. The vision of OptionsANIMAL is improving the quality of life of individual investors by empowering them with the proper skills to protect their money, well being, and retirement. Currently offering 45 online classes on topics ranging from stock market basics to double diagonals and trade adjustments. With OptionsAnimal, investors get a complete education. Investors are taught proven strategies designed to help them become a successful trader in any market condition. In fact, they guarantee it. Perhaps the most vibrant part about OptionsANIMAL is the trading community built around the education and is comprised of thousands of students from all over the world.The unique thing about OptionsANIMAL instructors is that every one of them are actively trading, and doing so successfully in the stock market and have graduated the OptionsANIMAL education.
###