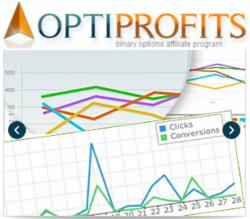 Binary option affiliates will be making more money just by referring others to our program. Everything is automated and all affiliates are eligible to use our Second Tier Program
New York, NY (PRWEB) February 27, 2013
The new second tier program implemented by OptiProfits, encourages binary affiliates to recruit other affiliates and to earn an attractive passive income from their success.
"We all know that affiliates know other affiliates in the same industry, so what can be a better deal than spreading the word on a safe and profitable binary options affiliate program to your colleagues, and earn money out of it", said Mr. Brian Rossetti, Affiliate Director at OptiProfits.com.
The sponsoring affiliate will receive a commission for every new deal the second tier affiliate brings in.
"Simply put," explained the executive, "an affiliate will be making money just by referring others to our program. Everything is automated and all binary option affiliates are eligible to use our Second Tier program; there's no need to ask for permission or whatsoever. It'll be active from day one. This is what makes our second tier affiliate program so appealing."
A second-tier affiliate will receive the same level of support as a regular affiliate, Mr. Rossetti said. In practice, this means access to quality marketing tools which span the gamut – from banners to e-mailers to landing pages to pop-ups.
OptiProfits is also willing to work closely with all affiliates if they require special marketing tools or even co-branded material.
"Our master affiliates start with a generous commission based on all trades their sub-affiliates bring, a sum calculated from sub-affiliate profits," the company executive explained.