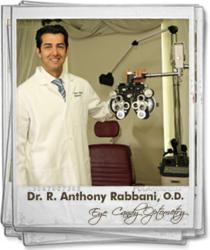 Los Angeles, CA (PRWEB) June 25, 2013
Dr. Anthony Rabbani, Los Angeles optometrist, now provides emergency eye exams for patients who have suffered eye injuries or who are experiencing eye infections or other problems. It is important to seek an emergency eye exam as soon as possible after problems with the eye are noticed to avoid permanent vision problems.
Dr. Rabbani has often been called the best eye doctor in Los Angeles because he offers excellent services as well as same-day emergency exams. Call Eye Candy Optometry and Eyewear as soon as the problem is noticed to schedule the next available appointment. The helpful staff at Eye Candy Optometry and Eyewear will work hard to get the patient in as soon as possible, sometimes as quickly as the patient can get to the office, depending on the nature and the severity of the problem.
During the emergency exam, Dr. Rabbani will ask the patient questions about the injury, such as when they first began to notice the problem or when the accident occurred and what symptoms they are experiencing. He will conduct a thorough examination of the eye to determine the full nature and extent of the problem, and then provide the appropriate treatment.
Some common signs of problems that indicate that the patient may need an emergency eye exam include redness, swelling, pain in the eye, or seeing flashes of light. Even if the patient is not sure how the problem occurred, it is important to have an evaluation as soon as possible rather than assume that the problem will simply take care of itself. In severe cases, the vision may become permanently compromised or blindness may result from not treating the problem as soon as possible.
Dr. Rabbani's patients often call him the best optometrist in Los Angeles because he truly cares about his patients and their health. Dr. Rabbani is committed to providing the best and most diverse optometry services in his Toluca Lake office. Dr. Rabbani offers a variety of services, from LASIK surgery and contact lens exams to alternative services such as gem therapy and acupuncture.
Contact Dr. Rabbani, Los Angeles eye doctor, at Eye Candy Optometry and Eyewear to schedule an appointment for an emergency eye evaluation, or for another type of exam or service. Dr. Rabbani is pleased to serve the residents of Toluca Lake, Los Angeles, and the surrounding communities.
Contact
Eye Candy Optometry and Eyewear
Dr. Anthony Rabbani, OD
10614 Riverside Dr.
Los Angeles, CA, 91604
Phone: (877) 727-2202
Website: http://www.eyelovecandy.com/
Facebook: https://www.facebook.com/EyeCandyLA