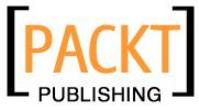 from the Database to Applications, from Middleware to 'Industry specific offerings, Packt is looking to become the first port of call for book buying Oracle professionals.
Birmingham, UK (PRWEB) July 20, 2009
Packt Publishing has today unveiled ambitious plans to improve its support for Oracle documentation by announcing a long-term commitment to publishing in the area.
Professional documentation is regarded as an essential element to the growth and success of any technology and despite Oracle's size and success, it is no different. Support from books, tutorials, and case studies can speed up adoption rates and cement long-term success.
Since 2006, Packt has developed and published a wide range of Oracle focussed books, including those on Oracle Modernization, BPEL, and ODP.NET. In doing so, Packt has established itself as one of the key publishers on Oracle technologies.
During 2009, Packt will publish more than a dozen additional titles. Since the turn of the year the company has released titles on Oracle Essbase, Oracle Utilities and Oracle VM Manager amongst others. James Lumsden, Packt's Publisher, said: "Oracle titles represent a cornerstone of Packt's Enterprise thinking. We understand the value, significance, and effectiveness of Oracle technologies, and aim to publish books that cover the full range of products." He went on to explain that "from the Database to Applications, from Middleware to 'Industry specific offerings, Packt is looking to become the first port of call for book buying Oracle professionals."
Since February, Packt has published half a dozen titles in both hardcopy and eBook format. These titles include Oracle's Hyperion Essbase 9: Implementation Guide by Sarma Anantapantula & Joseph Sydney Gomez. This book is a complete step-by-step guide covering timeless Essbase fundamentals, providing an immediate understanding of multidimensional database technology.
Oracle 10g/11g Data and Database Management Utilities by Hector R. Madrid, which allows readers to master twelve must-use utilities to optimize the efficiency, management, and performance of your daily database tasks.
Mastering Oracle Scheduler in Oracle 11g Databases by Ronald Rood, which is a practical guide for Database Administrators and Developers in setting up enterprise class job scheduling.
Further Oracle books from Packt include Oracle VM Manager 2.1.2 by Tarry Singh, a book which teaches users to manage a Flexible and Elastic Data Center with Oracle VM Manager. Processing XML documents with Oracle JDeveloper 11g by Deepak Vohra, which is designed to get users to create, validate, and transform XML documents with Oracle's IDE and also Oracle SOA Suite Developer's Guide by Matt Wright & Antony Reynolds. This book is focused on teaching users to design and build Service-Oriented Architecture Solutions with the Oracle SOA Suite 10gR3.
Later this year, Packt shall be publishing further titles, which will include: Getting Started With Oracle SOA Suite 11g R1, which is a hands-on tutorial written by Heidi Buelow, Manas Deb, Jayaram Kasi, Demed L'Her, & Prasen Palvankar. Oracle SQL Developer 2.1 by Sue Harper
Oracle Warehouse Builder 11g: Getting Started by Robert Griesemer and Create Internet-scale applications using Oracle's high-performance data grid Oracle Coherence 3.5 by Aleksandar Seovic & Robert Varga
The full list of Packt's published and announced Oracle titles can be found here: http://www.PacktPub.com/oracle-books.
Packt is currently looking for budding authors. If writing is something that appeals to you, please drop the company an email (author(at)packtpub(dot)com) and one of their experienced Acquisition Editors will be able to help advise what publishing opportunities exist, and how Packt can turn your book idea into a reality. In turn, you might want to take a look at their Author Website which explains more about the company, its existing authors, and how they develop books. The site is at: http://authors.packtpub.com.
###