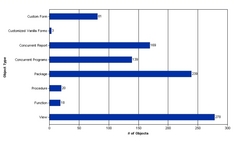 Our upgrade and testing solutions are already helping hundreds of global customers save valuable time and money while eliminating risks and we expect the new Oracle solution to contribute to our rapid growth
Orlando, FL (PRWEB) April 11, 2011
ERP Upgrades and Test Automation SaaS provider, Panaya, announced today the first Upgrade Automation solution for Oracle E-Business Suite R12. The new SaaS offering saves 50% of the cost and effort associated with Oracle EBS upgrades by simulating the R12 upgrade on a cloud-based supercomputer and showing Oracle customers what will break during the upgrade and how to fix it.
Oracle EBS upgrades to R12 can be challenging because of the uncertainties involved: identifying system customizations, figuring out what will break during the upgrade, and what needs to be tested; And fixing the code issues introduced by the upgrade is labor intensive. Panaya's Upgrade Automation SaaS maps all the EBS system customizations and shows Oracle customers' IT teams what will break during the R12 upgrade. It also shows them how to fix these issues and tells them exactly what they need to test. Since the solution is offered as SaaS, there is no hardware to purchase and no software to install. The solution in non-invasive and setup takes only 20 minutes.
Panaya's cloud-based supercomputer is the backbone of Panaya's SaaS solution, simulating the upgrade by running Oracle customers' custom code on EBS R12, showing them what will break and what to test. Having helped hundreds of SAP customers like Mercedes-Benz, The Home Depot, Sony, and Bosch on their ERP upgrade projects, Panaya is now expanding its offering to Oracle EBS customers.
"We're excited to be able to offer our upgrade automation solutions to the Oracle EBS market," said Yossi Cohen, Panaya's CEO. "After establishing our solutions as the de facto standard for SAP upgrades, it was only natural to broaden our reach into other ERP markets. Our upgrade and testing solutions are already helping hundreds of global customers save valuable time and money while eliminating risks and we expect the new Oracle solution to contribute to our rapid growth."
Panaya will be demonstrating its Oracle EBS upgrade solution at this year's Collaborate conference in Orlando, booth 1063.
About Panaya:
Panaya's software-as-a-service helps companies that use SAP or Oracle reduce 80% of their upgrade and testing risk and effort. Utilizing a cloud-based supercomputer, Panaya simulates the upcoming upgrade, automatically pinpointing which custom programs will break as a result of the upgrade and automatically fixing most of these problems.
Panaya's testing solutions dramatically expedite ERP testing and eliminate the need for manual test script maintenance. Seamlessly capturing business knowledge in the background, as users work with the ERP applications, Panaya automatically generates plain-English test scripts that are rapidly executed and continually self-adjust based on test results.
For further information visit the Panaya web site at http://www.panayainc.com.
Oracle is a registered trademark of Oracle. Oracle products and services mentioned herein as well as their respective logos are trademarks or registered trademarks of Oracle. SAP is a registered trademark of SAP AG. SAP and other SAP products and services mentioned herein as well as their respective logos are trademarks or registered trademarks of SAP AG in Germany and in several other countries all over the world.
###