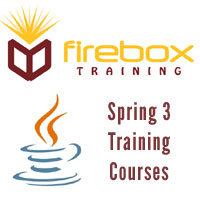 By listening to our clients, we make quick adjustments keeping the client central in our business philosophy.
Golden, Colorado (PRWEB) August 29, 2012
Rounding out an already robust curriculum for Java programming Firebox Training of Golden, Colorado has added Java Spring 3 to its IT training course offerings. The new Java Spring 3 courses are now offered in a concentrated 3-day introduction class focused exclusively on Java Spring 3 or students can opt for the 5 day course which also includes instruction for the Spring MVC Web Flow. The new additions to the curriculum represent a continuing trend for Firebox who has a history if being out front on IT instruction demands.
"We added the Spring courses because of market demand" says Shawn Johnson, Director of Sales at Firebox Training. "By listening to our clients, we make quick adjustments keeping the client central in our business philosophy." "Spring 3 was just a logical extension of the Java courses we offer." Johnson added. "We plan on adding free Java Spring 3 video tutorials to showcase our instructor's too."
Spring is the primary Java GUI widget toolkit. It is part of Oracle's Java Foundation Classes (JFC) which is an API for providing a graphical user interface (GUI) for Java programs. Spring not only has familiar components such as buttons, check box and labels, Spring also has several advanced components such as tabbed panel, scroll panes, trees, tables and lists. The Spring components are written entirely in Java and therefore are platform independent. Spring components emulate the appearance of native components while still retaining the benefits of platform independence. Spring allows the developer a way to retain the look and feel of an application without making substantial changes to the underlying application code.
Firebox Training Java Spring 3 Course Outlines
http://www.fireboxtraining.com/java-spring-3-training-course
http://www.fireboxtraining.com/intro-spring-3-and-spring-mvc-web-flow-training-course
The Java training course can be combined or customized with Introduction to Java training when just 5 students enroll from an organization. As is the case with virtually all courses from Firebox, instruction can take place on site or through instructor led online classrooms utilizing state of the art course ware which provides a lot of flexibility for students and professionals already working in IT departments.
Firebox Training continues to evolve to meet the growing demands of the IT sector and the needs of businesses with scaling systems and information organization and access. It's not just through expanding Java training courses but Firebox is also establishing itself as a valuable free resource with numerous free video tutorials both on the main site and on YouTube. The popular IT training channel created by Firebox, linked here: http://www.youtube.com/user/fireboxtraining has received over 125,000 video views in just the last 2 years.
Firebox Training was founded in 2007 in Golden, Colorado. Since that time the upstart IT training firm has delivered training for well known organizations including, General Dynamics, Bank of America, Comcast, Fidelity Investments, Time Warner, Vertafore, NREL, US Navy, US Army and HP, just to name a few. Firebox instructors travel to client locations across the globe. Most recently they completed training in Sydney, Singapore, London, New York, Austin, Seattle and Denver.