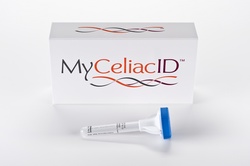 Prometheus' selection of the Oragene•DNA product is an exciting validation of our mission to deliver high-quality sample collection products that satisfy the rigorous requirements for such testing
Ottawa, ON (PRWEB) August 18, 2009
DNA Genotek, a leading provider of superior biological sample products, today announced that its Oragene®•DNA product has been selected by Prometheus as the sample collection kit for MyCeliacID™, the first saliva-based genetic test dedicated to celiac disease.
MyCeliacID is a highly specialized DNA test that detects genes specific to celiac disease (DQ2/DQ8) and provides an estimate of an individual's risk of developing the disease. Celiac disease affects nearly 3 million Americans but only about 100,000 are diagnosed. Diagnosis of celiac disease can be challenging since symptoms may seem like many different diseases. Laboratory tests may help doctors diagnose the disease so that patients can take steps to manage their diet and prevent complications.
MyCeliacID is available in most parts of the U.S., Canada and Mexico and can be ordered online at http://www.MyCeliacID.com. In order to complete the test, a MyCeliacID kit, which includes the Oragene•DNA sample collection device, is sent to an individual's home where they provide a small saliva sample and return the sample via mail to Prometheus' CLIA certified lab for analysis. Test results can be accessed online via a secure link, usually within 7 days from receipt of the saliva sample.
Oragene•DNA is ideal for this type of genetic testing service as it solves sample collection challenges inherent with traditional collection methods. Traditional methods are often too costly and invasive, or do not reliably provide enough high-quality DNA to enable the determination of the underlying genetic cause of health conditions like celiac disease. Oragene•DNA offers easy and non-invasive self-collection of saliva samples from large numbers of individuals and delivers high quality DNA.
"One of the challenges for us was how to make a test that is easily accessible to individuals who are searching for information about their condition," said Tim Schofield, Product Manager, Diagnostic Marketing at Prometheus. "Blood was not a viable direct-to-consumer option and we couldn't achieve the quality and reliability necessary to meet our stringent requirements with buccal swabs. We believe the ease-of-use and high-yield results of Oragene•DNA made it the natural choice for our MyCeliacID genetic test."
"Prometheus' selection of the Oragene•DNA product is an exciting validation of our mission to deliver high-quality sample collection products that satisfy the rigorous requirements for such testing," said Ian Curry, President and CEO, DNA Genotek, Inc. "Prometheus values the simplicity and ease-of-use of the Oragene•DNA kit and we are very pleased that they have selected it for their MyCeliacID offering."
About DNA Genotek:
DNA Genotek focuses on providing high-quality biological sample collection products. The company's lead product, the Oragene•DNA Self-Collection Kit, is the easiest way to collect and preserve large amounts of DNA from saliva. Oragene•DNA's reliability and ease-of-use have resulted in rapid adoption at top-tier health research institutions globally, including Harvard, Stanford, Cambridge, and Johns Hopkins. DNA Genotek markets its products worldwide and has established a global customer base in over 85 countries. For more information about DNA Genotek, visit http://www.dnagenotek.com
###