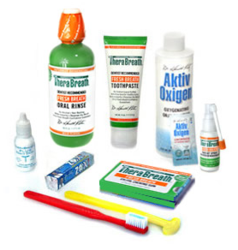 Spring is the perfect time to establish a healthy oral hygiene regime and get rid of bad breath!
(PRWEB) March 27, 2012
Spring is the perfect time to put those oral cleaning supplies to good use. Whether a person is 25 or 95, it's never too late to establish a healthy oral hygiene regime that eliminates bad breath, prevents decay and tackles those tough problems that cause unforgettable halitosis. Here's what a person should know to eliminate bad breath for good and to get the mouth ready for the most beautiful season of the year.
Before starting to clean those nooks and crannies where smelly bacteria grow, it is important to have the right cleaning tools for the job. Essential oral cleaning supplies include a soft-bristle toothbrush, tongue scraper, fluoride-containing, SLS-free toothpaste and an alcohol-free oral rinse. Supercharged products are ideal for combating advanced halitosis, gingivitis and early-stage periodontal disease. Healthy gums are the foundation of beautiful, strong teeth.
Cleaning the mouth sounds simple, but many people skip important steps. The first step is gently flossing between the teeth where cavity-causing bacteria love to hide. Gently glide the floss between the teeth, and pull it tight creating a taut C-shape. The goal is not only to excavate bacteria from between the teeth; flossing also removes plaque from the face of the teeth.
Brushing the teeth at least twice a day or after meals is essential for removing plaque. These bacterial colonies release destructive acids that break down the enamel and cause cavities. If plaque is not removed, it forms hard tartar deposits that stretch the gum pockets and lead to periodontal disease. The American Dental Association (ADA) recommends brushing the teeth, gums, cheeks and roof of the mouth. Use the narrow toe of the brush to clean tight areas behind the front teeth. The entire process should take approximately two minutes.
A clean tongue is essential for fresh breath. In addition to gently scraping the tongue to remove odorous biofilm, coat the scraper with a small amount of toothpaste, and apply to the tongue. Instead of washing this off, rinse the mouth with alcohol-free mouthwash to remove excess toothpaste and bacterial debris. For maximum effect, swish the mouth rinse for at least 60 seconds.
Most people don't realize that many conventional products contain alcohol, sodium lauryl sulfate (SLS) and harsh chemicals that are detrimental to oral health and aggravate dry mouth (Xerostomia) and cause canker sores (recurrent aphthous stomatitis) according to the British Dental Health Foundation and a study from the University of Oslo.
When putting something in contact with the sensitive, absorbent membranes of the mouth, it's important to select products made with natural ingredients. Spring cleaning tricks for your mouth are far more rewarding than dusting and vacuuming. Follow these tips to enjoy fresh breath all year.
Find TheraBreath® products online and in the local supermarket or pharmacy nationwide. Visit http://www.therabreath.com for more information on starting an effective oral hygiene regimen that eliminates bad breath odor-causing bacteria.