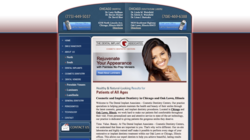 Routine cleanings by a licensed dental hygienist include much more than polishing a patients teeth.
Chicago, IL (PRWEB) January 05, 2012
Dr. Steven Flicker of The Dental Implant Associates, a practice focused on general and cosmetic dentistry in Chicago, says there may be a significant connection between oral health and heart health. Based on a study recently presented at the annual meeting of the American Heart Association (AHA), routine scaling cleanings at least once every two years can reduce the risk of heart attack by 24%. The study, conducted by cardiology fellow Zu-Yin Chen, MD of the Veterans General Hospital in Taipei, Taiwan, also showed the risk of stroke decreased by 13% amongst those who regularly had their teeth professionally scaled.
At his practice for general dentistry in Chicago, Dr. Flicker recommends patients receive routine cleanings at least twice yearly. "The link between gum disease and heart disease is not clear; however, several research articles have discussed a correlation between the two, and chronic oral and periodontal infections can spread to other parts of the body."
By adhering to a regular dental hygiene regiment, Dr. Flicker says patients can help reduce the likelihood of gum disease and inflammation. The study by Zu-Yin Chen shows that inflammation is a common problem in both gum disease and heart disease, and can also be connected to hardening of the arteries, a known cause of heart attack and stroke. Dr. Flicker adds that seeing a dentist for routine cleanings ensures patients receive comprehensive oral treatment from an experienced and qualified dental specialist, potentially minimizing the risk of future health complications. "Routine cleanings by a licensed dental hygienist include much more than polishing a patients teeth. The hygienist removes hardened deposits on the teeth and below the gum line that brushing cannot remove. They also check for decay and any oral abnormalities that may be present."
Dr. Flicker says by seeing a dental hygienist regularly and practicing good home care patients reduce the risk of disease and infection in their mouth. He recommends maintaining a holistic approach to one's overall well-being, starting with good dental hygiene and heart-healthy habits. "We have devoted our practice to adult dental care with an emphasis on cosmetic, restorative and implant dentistry. Our approach is to treat the mouth as only one part of the patient's health and well being. Part of our commitment to our patients is to educate them so they are partners in achieving and maintaining their desired smiles, as well as good health in general."
About Steven Flicker, DDS
Dr. Steven Flicker received both his undergraduate degree and dental degree from the University of Illinois. He has been practicing as an implant and cosmetic dentist in the Chicago area for over 35 years. He is a member and fellow of the American Academy of Implant Dentistry and has also held an officer position in the Midwest branch of the organization.
The Dental Implant Associates are located at 6258 North Lincoln Ave. in Chicago, IL, reachable at (773) 449-5037. They can also be contacted online via the website dentalimplantassociates.com or facebook.com/DentalImplantAssociates.
###