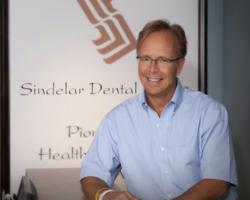 Early detection allows us to proactively treat oral inflammation and improve outcomes.
St. Louis, MO (PRWEB) November 14, 2012
Dr. Dan Sindelar is among a new breed of dentists expanding their practices beyond tooth care to diagnose and prevent inflammatory disease. Dr. Sindelar is leading the discussion by building awareness with his patients and educating fellow dentists about new non-invasive DNA testing that aids in the diagnosis and prevention of periodontal disease. He now offers this innovative testing in his St. Louis, Missouri, dental office.
Dr. Sindelar is at the forefront of oral systemic health—the connection between oral health and its effects on overall health. As the current president of the American Academy for Oral Systemic Health, Dr. Sindelar stresses the importance of early detection by saying, "Early detection allows us to proactively treat oral inflammation and improve outcomes. Dentistry is no longer just about fixing teeth. We do much more to promote overall health and wellness of our patients."
According to Drs. Mehemet Oz and Michael Roizen, 75% of adults have some form of undiagnosed gum disease. Undiagnosed and untreated gum disease increases the risk of a wide range of diseases including heart disease, diabetes, cancers, rheumatoid arthritis, dementia and type 2 diabetes.
Using a simple, non-invasive rinse test that takes only 30 seconds, Dr. Sindelar is able to find out whether the patient is at a higher risk for a hyper-response to oral inflammation, which is then linked to several other life-threatening conditions. Saliva contains viral and bacterial DNA that make this form of testing very effective when searching for conditions leading to gum disease or inflammation.
Treating gum disease and oral inflammation through salivary diagnostic testing and treatment is one of the innovative approaches Dr. Sindelar is taking to improve the overall health of his patients. Dr. Sindelar has focused on areas within the scope of dentistry that have the most impact on overall wellness, including diagnostics and treatment of sleep disorders, malocclusion, and wellness programs.
Dr. Sindelar offers screening and treatment planning at his St. Louis practice. Patients may learn more about Dr. Sindelar's approach to total body health by visiting http://sindelardental.com.
Dentists wanting more information about incorporating DNA testing and oral inflammation reduction into their practice are encouraged to visit http://www.drdansindelar.com.
About Dr. Dan Sindelar
Dr. Sindelar is the current president of the American Academy for Oral Systemic Health (AAOSH). He evangelizes cooperation and communication between the medical and dental fields in light of remarkable new dental treatments. By participating with cardiologists in the prevention of heart attacks, strokes, and diabetes, he earned his preceptorship certification, a sign of the importance that the medical community now places on dental care as an essential component of overall health. Dr. Dan was born and raised in St. Louis, where he has run a private practice, serving the community as one of its leading dentists for more than 30 years. Dan focuses on general advanced cosmetic rehabilitation, gum disease, oral inflammation, comprehensive periodontal management, dental sleep medicine, neuromuscular dentistry, and facial pain and TMJ/TMD therapy.