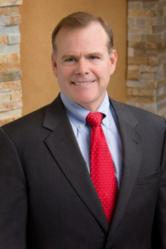 Patients need a surgeon who is well trained, experienced, and skilled, but also one who has compassion and integrity.
Denver, CO (PRWEB) July 31, 2012
Randolph C. Robinson, MD, DDS, FAACS, has been awarded the title of 5280 Magazine's top-ranked oral and maxillofacial surgeon in Colorado by medical peers. The list, determined by asking doctors who they would refer their patients to, highlights Colorado's most trusted and respected medical professionals. It can be viewed in the June, 2012 issue of 5280 Magazine, both in print and online.
After serving patients in the Denver area for 20 years, Dr. Randy Robinson recently opened Robinson Cosmetic Surgery, LLC, a new practice in Lone Tree, Colorado, where patients with cosmetic, oral, and maxillofacial needs are treated. Robinson has surgical privilege at HealthOne and Centura Facilities, including Sky Ridge and Parker Adventist Hospitals.
Dr. Robinson is double board certified by the American Board of Oral and Maxillofacial Surgery and the American Board of Cosmetic Surgery. Robinson practices oral, maxillofacial, craniofacial, and facial cosmetic surgery. Dr. Robinson also occasionally teaches as a visiting clinician at the University of Colorado Schools of Medicine and Dentistry and has presented at several national and international conferences on topics related to facial surgery. He continues to conduct clinical research and holds three patents on bone expansion devices. Robinson's FDA-approved "Bone Generator"TM is used for internal craniofacial expansion and bone lengthening, allowing children and adults with facial deformities to be treated with a less surgically-invasive approach.
Robinson has several publications and awards related to his specialty. His most recent award was the International Humanitarian Award by the American Association of Oral and Maxillofacial Surgeons.
Dr. Robinson's philosophy of practice is that patients should be treated with kindness and truth. Robinson notes, "Patients need a surgeon who is well trained, experienced, and skilled, but also one who has compassion and integrity."
Dr. Randolph C. Robinson has been practicing cosmetic, oral, and orthognathic surgery for over 20 years in the Denver, Colorado area and all over the world. Dr. Robinson has received numerous awards, co-founded and is actively involved in Face the Challenge, a non-profit organization, and holds appointments in various medical programs and societies. For more information on Dr. Robinson and Robinson Cosmetic Surgery, please visit RobinsonCosmeticSurgery.com or contact us at 303-792-2828.
Robinson Cosmetic Surgery, LLC
Lone Tree, CO 80124
303-792-2828