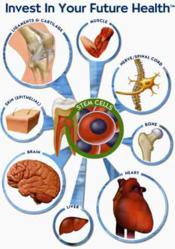 "As an oral surgeon it is truly remarkable that I can offer my patients a potential life-saving procedure by simply preserving teeth that would otherwise be discarded"
Miami Beach, FL (PRWEB) June 15, 2011
Blum Oral-Facial Surgery Associates has teamed up with StemSave™, Inc., the market leader in the field of stem cell recovery and cryo-preservation, to enable patients to recover and save very powerful stem cells found in teeth. The recent discovery that stem cells exist in teeth has the potential to transform dentistry and the future of medical treatments. Stem cells are the basis for the emerging field of Regenerative Medicine. Today, hospitals are utilizing stem cells to treat leukemia, heart failure, and are transplanting organs grown from a patient's own stem cells. There are more than 78 clinical trials involving stem cell treatments underway. The US Military is also developing stem cell therapies to treat soldiers wounded in action. The current research being conducted suggests that stem cell therapies will be able to treat many of today's most difficult diseases, such as diabetes, Parkinson's, Alzheimer's, muscular dystrophy, cancer and many more.
"As an oral surgeon it is truly remarkable that I can offer my patients a potential life-saving procedure by simply preserving teeth that would otherwise be discarded," said Miami Beach oral surgeon Dr. Jeffrey Blum.
StemSave's patented technology turns routine trips to the oral surgeon into potentially live-saving experiences. In particular, children and young adults should consider banking their stem cells while undergoing procedures such as the extraction of wisdom teeth or baby teeth. These planned dental procedures provide an ideal time to preserve one's stem cells.
"We are thrilled to partner with Dr. Blum, to make harvesting stem cells from teeth easy and affordable, this way everyone can benefit from the powerful medical applications of stem cells," said Dr. Gregory Chotkowski, Oral Surgeon and president of StemSave.
StemSave is a collaborative effort between stem cell researchers and the dental community to provide families, and individuals an affordable, non-invasive methodology for the recovery and cryopreservation of the powerful and valuable adult stem cells residing within baby teeth, wisdom teeth, permanent teeth for future use in personalized medicine and regenerative medical therapies.
"Our practice has always been ahead of the curve technologically. We offer cutting-edge dental treatments in the field of dental implants, bone grafting, corrective jaw surgery, and sedation, but it is especially gratifying to be able to provide a potentially life-saving service to patients," said Miami Beach oral surgeon Dr. Nicolaievsky.
Blum Oral-Facial Surgery Associates has over 50 years of combined experience in Oral & Maxillofacial Surgery. They are proud of the service that their team provides to their patients and the whole community. Dr. Blum and Dr. Nicolaievsky encourage interested patients and families to schedule an appointment with their office to discuss treatment options available.
For more information on Stem Cells, dental implants, bone grafting, corrective jaw surgery, wisdom teeth, or sedation dentistry please visit Blum Oral-Facial Surgery Associates at http://www.drblumoralsurg.com or call their office at (305) 538-4556 for an appointment.
###